At the Mono Lake Committee we spend a lot of time thinking about inputs of water into Mono Lake. How much? For how long? In what patterns? From what sources? When will it arrive? Is it enough?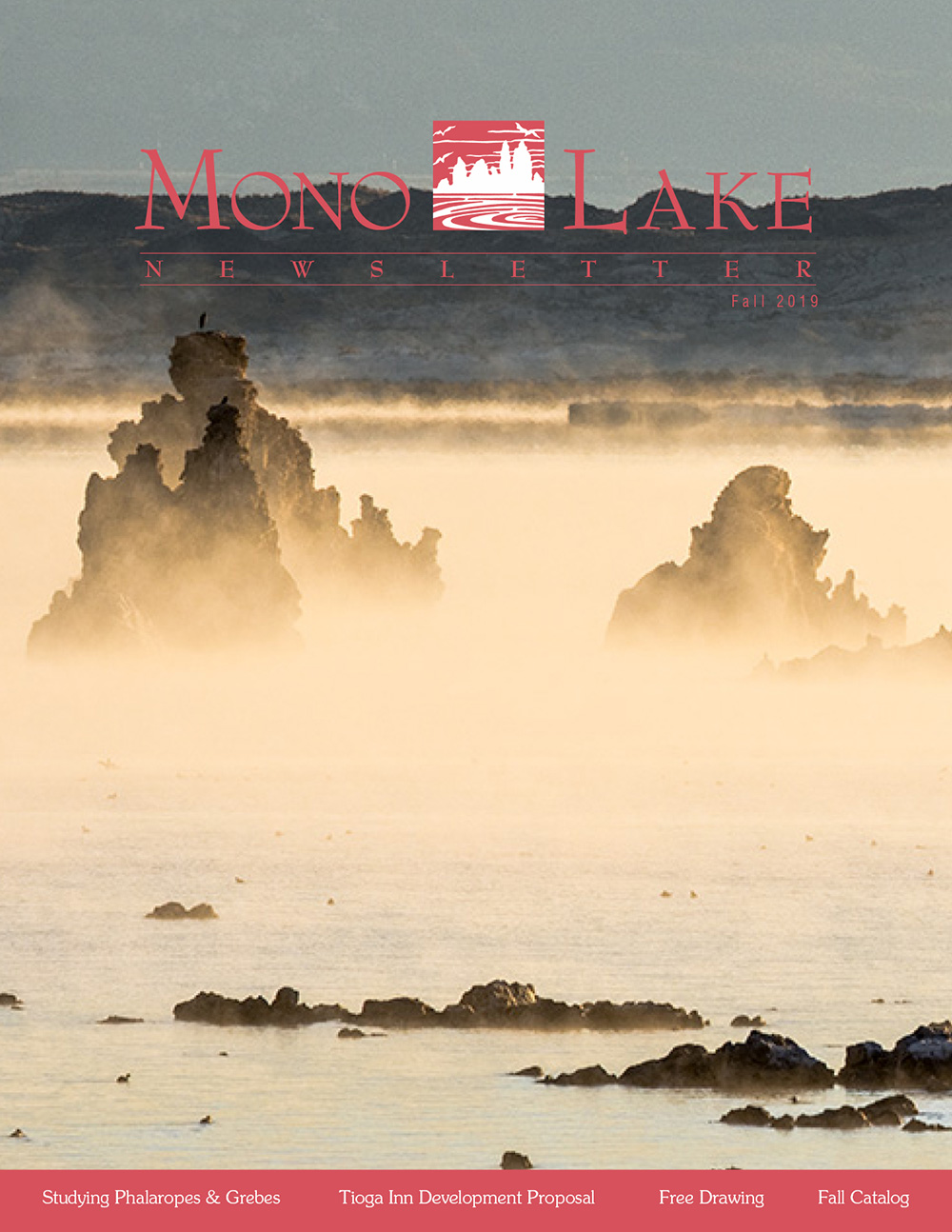 But during the recent windstorm-induced power outage (see page 17), I got to thinking about Mono Lake's output. It powers the phalaropes (see page 6) on their long migration to South America after they have stopped here to gorge on brine shrimp and molt. On their non-stop flight to Chile, Argentina, Peru, and Paraguay, each new feather, each tiny digestive system is powered by Mono Lake.
The abundant food in Mono Lake and Great Salt Lake fueled the growth of the North American population of Eared Grebes into the largest in the world. When Robbie assisted with grebe research in British Columbia last summer he held in his hands one-pound bundles of muscles powered by Mono Lake (see page 7).
For 25 years now Mono Lake has been a source of energy for the Outdoor Education Center (see page 12). It's the reason students travel from Los Angeles to learn about the origins of their water and take that knowledge back home. This year that energy powered such overwhelming donations of hiking boots to the OEC program that we're still looking for the "off" switch!
In August Mono Lake energized hundreds of people to write comment letters on the Tioga Inn proposal, fueling the effort to work toward a better project (see page 4).
Mono Lake powered ranger Dave Marquart's long career with the Mono Lake Tufa State Natural Reserve (see page 8). Those who encountered him at the lakeshore in his flat hat were lucky to absorb some of his quiet energy for this place.
The lake powers generous donations, from those that fund intern positions and contribute to the Access Fund for OEC students (see page 13), to those in honor or memory of dear friends and family (see page 27).
And, the lake powers this Newsletter—as you read the pages that follow I hope you'll feel the warm glow of Mono Lake right through your hands (or your screen).
Top photo courtesy of Rick Kattelmann.