It's T-minus one week until the Trail Chic fashion show fundraiser … is your runway gear ready? Here's one minute of inspiration from years past for you: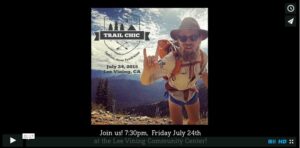 If you're wondering what Trail Chic is, click here.
If you're interested in walking the runway, please contact me by email, and if you just want to come see what all the fun is about, we'll see you at 7:30pm on Friday, July 24th at the Lee Vining Community Center!