July 7, 2021
@
7:30 pm
–
9:30 pm
Join us for an outdoor screening of Manzanar Diverted: When Water Becomes Dust. Arrive by 7:30pm for a panel discussion with Charlotte Lange and Kris Hohag, moderated by filmmaker Ann Kaneko, followed by the screening at 8:00pm.
Manzanar Diverted follows intergenerational women from three communities who defend their land, their history and their culture from the insatiable thirst of Los Angeles. In this fresh retelling of the LA water story, Native Americans, Japanese-American WWII incarcerees, and environmentalists form an unexpected alliance to preserve Payahuunadü (Owens Valley), "the land of flowing water."
If you can't make it to the Lee Vining screening, the film will show in Bishop, Big Pine, and Lone Pine the following days (see details below). We appreciate being asked to support this important event—the film tour commemorates the 1863 Forced March of Native Americans. We hope to see you at the screening.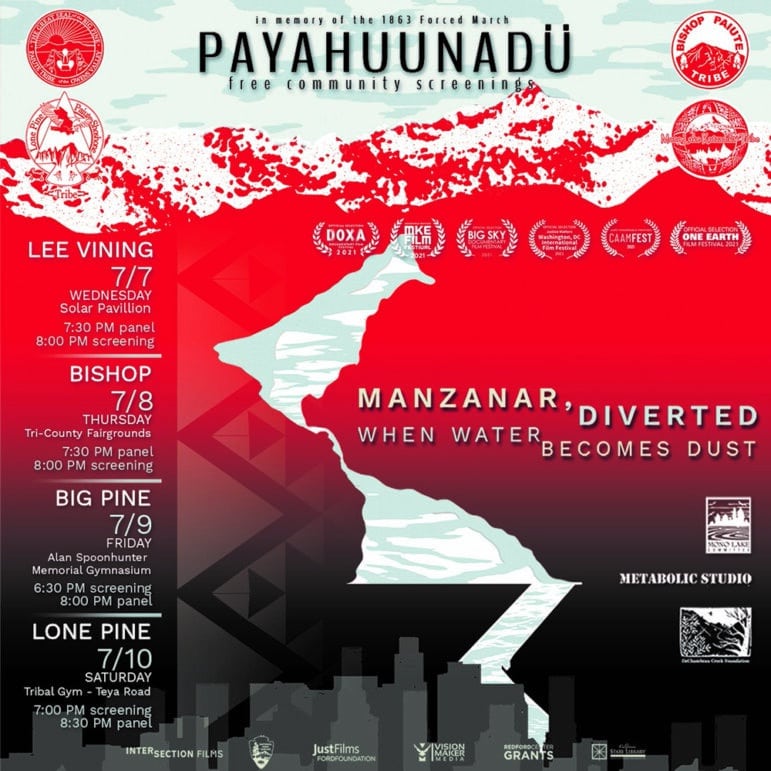 Details
Date: Wednesday, July 7, 2021
Time: 7:30pm panel discussion with Charlotte Lange, Kris Hohag, and Ann Kaneko (moderator) / 8:00pm screening
Price: Free. Please register here beforehand. Outdoor seating is first come first served.
Questions? Contact Education Director Rose Nelson by email or phone at (760) 647-6595.
Event Category:
Bishop screening: Thursday, July 8, 2021 at the Tri-County Fairgrounds. 7:30pm panel / 8:00pm screening. Panel: Monty Bengochia, Jolie Varela, Paul Huette, Teri Red Owl (moderator).
Big Pine screening: Friday, July 9, 2021 at the Alan Spoonhunter Memorial Gym, 1050 S Richards Street. 6:30pm panel / 8:00pm screening. Panel: Noah Williams, Sage Romero, Ann Kaneko, Danelle Gutierrez (moderator).
Lone Pine screening: Saturday, July 10, 2021 at the Tribal Gym, 975 Teya Road. 7:00pm panel / 8:00pm screening. Panel: Beverly Newell, Mary Roper, Lillian James, Ann Kaneko, Grace Newell (moderator).
Related Events