The Mono Lake Committee awards the Mono Lake Committee Scholarship to support Mono County students seeking post-high school education.
The Mono Lake Committee Scholarship is one of the ways the Committee is active in our community, contributing to support local students and families.
Why do places like Mono Lake matter?
Each year the Committee awards up to two $1,000 scholarships to students pursuing higher education who display a personal connection with Mono Lake and the Mono Lake story. Mono County resident high school seniors who have firm plans to further their education within a year of graduation qualify for the Mono Lake Committee Scholarship. Student applicants must visit Mono Lake and write an essay that responds to the question: Why do places like Mono Lake matter?
Application process
The Mono Lake Committee notifies Mono County high schools when the application process opens. Completed applications must be submitted to the Mono Lake Committee by 5:00pm on the second Friday in May each year. Please contact Education Director Rose Nelson with any questions or if you are interested in donating to the scholarship fund.
2021 Scholarship recipients and essays
In 2021, scholarships were awarded to Lee Vining High School seniors Chyann Andrews and Leonel Galindo. They both wrote thoughtful essays about the importance of Mono Lake both to them and to the world. We wish them well for their next step.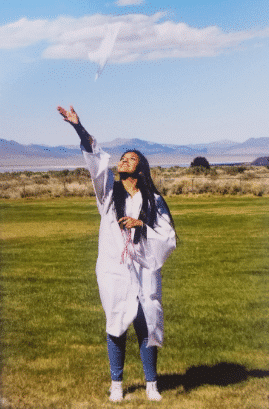 Chyann Andrews' essay
Looking out at Mono Lake I can't help but think of my ancestors, everything from the peaceful scenery to the comfort of knowing my ancestors are watching over me and protecting me. When you ask, why places like Mono Lake matter, it's because it holds history, from the very first people to the modern day, all the way down to when my great grandparents were but little children running through the sagebrush. Mono Lake tells its story of how it came to be and we tell that story to all who venture to our little town of Lee Vining. Looking out at Mono Lake makes me think about my people, gathering the kutsavi in their baskets and gathering pine nuts in the fall. It also makes me think of my people around the country and what all of us have had to endure; such as genocide, the pipeline dilemma, and the Indigenous women who go missing and are murdered almost every single day. Mono Lake inspires me to be a strong young Native American women who will put her people's best interests before her own, to gain equality that we so rightfully deserve. My success would be achieving an All-Tourney medal for volleyball, which is a high honor within my family because we are very sports-oriented, with winning medals and awards and going all the way back to my great grandfather, which if you've eaten at Bodie Mike's there's a picture on the wall with him and my great uncles (his brothers) with the team. My other successes would be receiving a certificate for Exemplary Mathematics Achievement, Honor Roll, and the Principal's List. My hardships would be being one of very few Native American students at Lee Vining High School and not having as many opportunities as other schools with more Native students as well as my peers.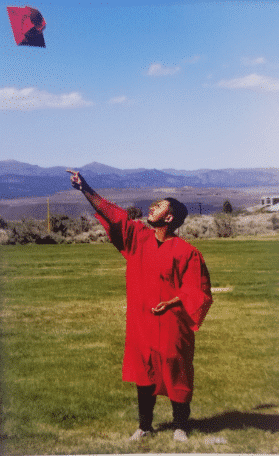 Leonel Galindo's essay
Mono Lake is lake where you find peace and quiet. A place where all of your worries go away, a place like no other. As I am writing this essay the birds are chirping, the sun is steaming, the only overpowering sound of the waves hitting shore. Mono Lake is a special place that should stay the way it is, this is a place like no other a place people come to relax to get away from all the stress they may have. My relationship with Mono Lake is a great one. For about one year I had the privilege to live right in front of it, right below Mono Inn. Every morning as I would get up I would look outside of my window and have spectacular view of the lake. Having the chance to live in that house made me realize how beautiful mother nature actually is, all of the sunsets and sunrises made me appreciate this little town a lot more. One thing that I am really grateful for is how inspired living down there made me before we moved to that house. I was at my all time lowest. Nothing was helping me. I was so unmotivated to do anything. Once we moved into the beautiful home next to the lake it opened my eyes and helped me see the beautiful things in life, and by doing that it not only helped me mentally but also physically. My school grades were going up and many things in my life were going my way, because of the way Mono Lake motivated me. It helped me achieve many of the goals I had in my life. Whenever I felt overwhelmed by school and my emotions, I could always look outside and enjoy a beautiful view. For example by me getting my grades up it helped me achieve one of my life time goals being accepted into a four year college. Sitting here on the ground looking at the beautiful view while reminiscing about all the good times I had in this town makes me realize how time passes by so quickly. Living in Mono Lake has shaped me into the person I am today, it taught me that I should never give up on myself and there's always room for improvement. It taught me to take a minute to stop and enjoy what life has given to me. This why places like this matter. We need places like Mono Lake to remind us all that even at our lowest, we still have something to look forward to. Not only was it the lake that had a huge impact on me but most importantly it was the community that helped push me and helped me see that anything is possible and because of this Mono Lake will always have a special place in my heart.
Previous scholarship recipients
2021: Chyann Andrews and Leonel Galindo from Lee Vining High School
2020: Keely Podosin from Mammoth High School and Ben Trefry from Lee Vining High School
2019: Sophia McKee from Lee Vining High School and Orion Ellis from Mammoth High School
2018: Rosalie Burch and Isabel Calderon from Lee Vining High School
2017: Reina Childs from Coleville High School and Charles DesBaillets from Lee Vining High School
2016: Berlin Del Aguila and Julie Harris from Lee Vining High School
2015: Carson Bold from Mammoth High School and Olivia Nelson from Lee Vining High School
2014: Patty Anne Hensley from Mammoth Lakes Academy and Alexis Romero Lee Vining High School
2013: Tristan Blommer and Courtney Duro from Lee Vining High School
2012: Cory Forbes, Alek McKee, and Natasha McCullough from Lee Vining High School and Cavanagh Gohlich from Coleville High School
2011: Angela Annett and Quincy Parker from Lee Vining High School
2010: Andrew Oliveira from Eastern Sierra Academy (Bridgeport)  and Katie Woodruff from Lee Vining High School
2009: Justin Diem and Juan Carlos Pina from Eastern Sierra Academy (Bridgeport) and Erika Flores from Lee Vining High School
2008: Hannah Gehrman and Mariah McCullough from Lee Vining High School