The Mono Lake Committee is excited and proud to announce the winners of the 2009 Mono Lake Committee Scholarships! Justin Frederick Diem of the Eastern Sierra Academy, Erika Flores of Lee Vining High School, and Juan Carlos Pina of the Eastern Sierra Academy wrote moving essays that won them each $1,000 to help with their pursuit of higher education.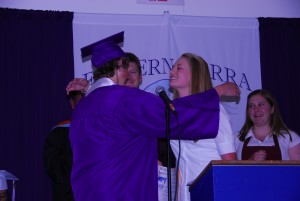 Justin answered the question: "How has Mono Lake or the Mono Basin influenced your life and your choice to go to college?" He wrote about his battles with cancer at ages four and six–and his strong desire to make it through so he could come back home to this place that he loves so much. He wrote, "Returning home was the most uplifting part of my young life. I could finally start exploring the meadows with my friends again, go fishing with my Dad, and hike with my brother. Everything seemed to fit in the right place while roaming around in the fresh air…. I plan to attend the University of Nevada Reno next fall so I can visit home quite often. The power of this great basin will never let me to too far from home."
Erika answered the question: "How has Mono Lake or the Mono Basin influenced your life and your choice to go to college?" In her essay Erika described one day that she spontaneously decided to walk down to Mono Lake : "I never knew how fortunate I was to live in such a beautiful place. I took living near Mono Lake for granted…. ever since that day I am thankful to have Mono Lake and the Mono Basin in my own back yard. I appreciate the fact that I get to live in such an amazing place. A while back I couldn't wait to get out of Lee Vining. This experience changed my mind and I chose to go to Cerro Coso Community College in Mammoth Lakes…."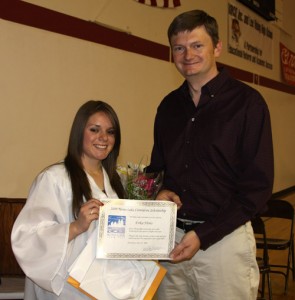 Juan Carlos answered the question: "What do you expect to do to change the world for the better with particular regard to solving natural resource issues?" He wrote about his dream of going to college. "To this day I haven't changed the world yet, however I have begun to influence the world into a better living environment where everyone has the opportunity to reap the benefits of an education; like I have going to college despite my cultural obstacles…. I come from an immigrant father who graduated high school, and an immigrant mother who graduated middle school both from Mexican decent. They both lacked the opportunity, the determination, and most importantly the belief from their partents. Fortunately enough I have the opportunity, the desire, and my parent's faith that i can go to the University of California, Davis…. If more people focus on influencing the world little by little, at the end we can all change the world."
Mono Lake Committee Executive Director Geoff McQuilkin presented scholarships at their graduation ceremonies with the help of last year's scholarship winners Hannah Gehrman and Mariah McCullough, both at home for the summer after completing their first year of college. The complete text of all of the Mono Lake Committee Scholarship winners is here. Guidelines for the scholarship are here.
This year, the second year of the scholarship program, three scholarships were made possible by the generous donations of Mono Lake Committee Members and the Board of Directors. Please contact Communications Director Arya (arya@monolake.org) at (760) 647-6595 to contribute to the fund or for more information.
Top photo by Ava Stavros.