Throughout the year, the Mono Lake Committee offers a number of guided activities, from hour-long walking tours to multi-day field seminars. Led by knowledgeable local guides, these activities are a great way to make the most of your time at Mono Lake.
The Latest from Mono Lake
Check out the most recent posts from Mono Lake or select a category below to see the latest on that specific topic.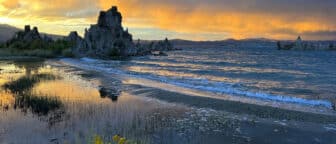 Travel conditions
Visit Mono Lake from Home
Watch The Mono Lake Story film
Learn more about the natural and political history of Mono Lake.
Self-guided tour of South Tufa
Learn about Mono Lake on your own schedule and at your own pace.
Live Mono Lake webcams
See multiple live views of Mono Lake from wherever you are.
All activities operate under permits from the Inyo National Forest and California State Park system.