The complete list of all the Mono Lake Committee's 2023 Field Seminars is now available online here. Registration opens at 9:00am on Wednesday, February 1 for Mono Lake Committee members.
This year's slate of Field Seminars includes one-day and multi-day options, and spans many topics: oil painting, journaling, woodpeckers, geology, photography, and more.
The Committee's Lead Naturalist Nora Livingston will be leading five seminars this year on Mono Basin natural history, tree identification, and birding. There will also be four photography seminars spread out throughout the seminar season to capture Mono Lake's dramatic and beautiful changes throughout spring, summer, and fall.
By popular demand, fans of Greg Stock's Geology of the Mono Basin will have two chances to sign up this year, in July and September. Like last year, these seminars will be filled through a lottery system. Learn more here about how the lottery will work this year.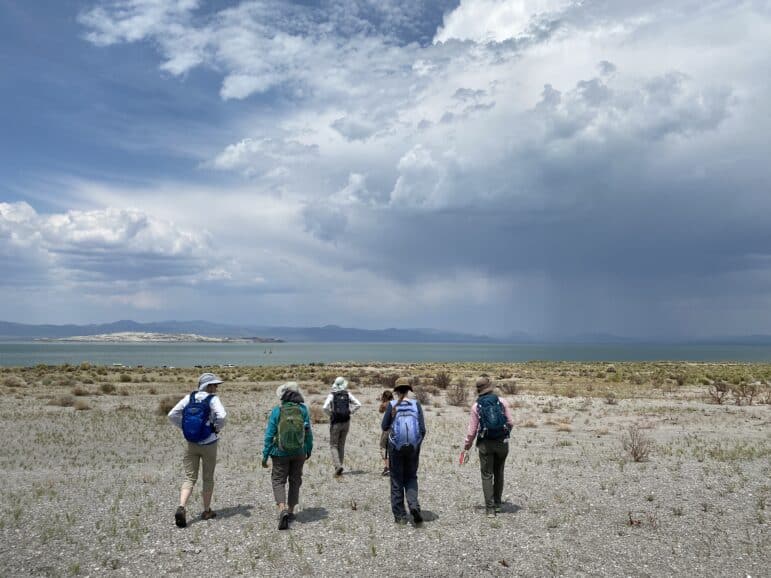 Classic seminars such as Beginning Oil Painting, Arborglyphs & Aspen Natural History, and the Los Angeles Aqueduct Tour will be returning this year. The Aqueduct Tour will be co-led by the Committee's own Robbie Di Paolo and Maureen McGlinchy. Robbie and Maureen are Mono Basin experts and will discuss how this year's wet January impacts political, restoration, and hydrology modeling efforts at Mono Lake.
Look at the seminars now so you know what to sign up for when registration opens on Wednesday, February 1 at 9:00am for Mono Lake Committee members. If you are not a Committee member, but you wish to register in February, you may join the Committee and sign up for the class of your choice at the same time on February 1.
If you have any questions, you can check the list of frequently asked questions, email the Field Seminar team, or call (760) 647-6595.