Since 2008, the Mono Lake Committee has supported local students by awarding two $1,000 scholarships to Mono County high school seniors. This year we asked applicants to get close to the shoreline of Mono Lake without distractions and jot down what they saw, heard, smelled, and felt around them. Then to reflect on the question: Why do places like Mono Lake matter?
The answers were quite moving from all applicants, but two essays rose to the top. We are pleased to announce this year's recipients—Orion Ellis from Mammoth High School and Sophia McKee from Lee Vining High School.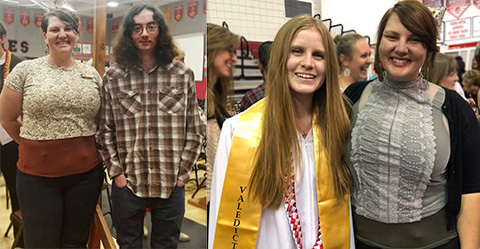 Orion's essay was unique and refreshing to read. He wrote, "[Mono Lake] reminds me of being a kid, not the embarrassing or dumb stuff I usually remember, but the fun and excitement, the curiosity and discovery." Orion has lived in Mono County his whole life and is planning to attend San Francisco State University in the fall to pursue his goal of designing video games.
Sophia's essay was heartfelt and almost brought tears to my eyes. She wrote, "I picture a time in history when the lake was even lower than it is today, and I imagine the sadness and loss that I would have felt if it wasn't conserved. The impact Mono Lake has had on so many lives, mine included, is impossible to calculate, and I can't imagine my life without this natural landmark." Sophia was involved with many activities during high school, including ASB, Mock Trial, and Poetry Out Loud. She plans to attend the University of New Brunswick in Canada in the fall.
All Mono County high school seniors with firm plans to attend a 2 or 4 year college within a year of graduation are eligible to apply for the Mono Lake Committee Scholarship. If you have any questions about the scholarship program or would like to donate to the fund please contact me by email or at (760) 647-6595.
Top photo by Ava Stavros.