We're proud to announce the winners of the 2010 Mono Lake Committee Scholarship. Andrew Oliveira of the Eastern Sierra Academy and Katie Woodruff of Lee Vining High School were each awarded $1,000 scholarships to support their pursuit of higher education.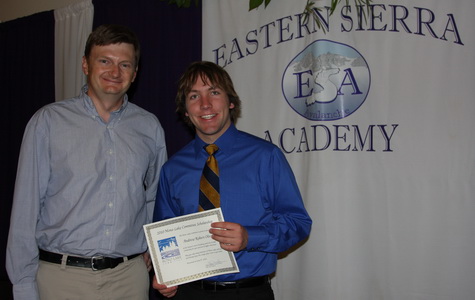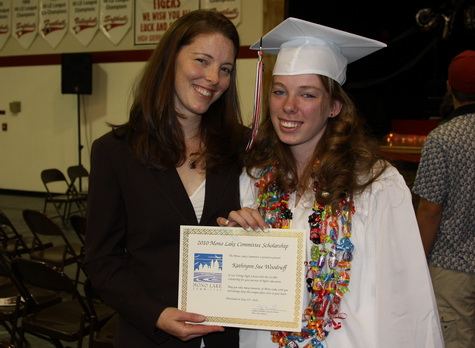 Scholarship applicants must write an essay demonstrating their connection to Mono Lake by answering one of two questions: What do you expect to do to change the world for the better with particular regard to solving natural resource issues? How has Mono Lake or the Mono Basin influenced your life and your choice to go to college?
Andrew Oliveira wrote, "Mono Lake inspires me every time I look out upon its waters. I am in awe of such a strange and yet majestic body of water that seems to defy all explanation. Its islands are alien, its waters serene. Its disposition can be gentle or chaotic depending on the day. Yet every day that I drive by the lake, an indescribable feeling comes over me as I am filled with imagination, curiosity, and purpose … When I see Mono Lake, I want to create, to design, to build something that might equal its beauty. I envision a world where my creations spark the same sense of reverence and self-realization that I feel every time that I pass the lake…." Andrew will be attending University of California, San Diego in pursuit of a career in mechanical engineering.
Katie Woodruff wrote, "I plan on attending University of California, Davis in the fall of 2010. At that college, I will be majoring in Computer Science and Engineering with emphasis in Forensic Science. My career goal is to be a lab technician and to work with a team of investigators. I have chosen this career because I want to make the world a safer place, just like it is in the Mono Basin…."
This year, the third year of the Mono Lake Committee Scholarship program, two scholarships were made possible by the generous donations of Mono Lake Committee Members and the Board of Directors. Please contact Communications Director Arya at (760) 647-6595 to contribute to the fund or for more information.
You can read the full text of the winning applications here. Guidelines for the scholarship and the application form are updated each year and posted here.