June 23
@
8:00 am
–
9:30 am
Join a naturalist-guide for an easy tour through a variety of habitats including wetlands, willows, sagebrush scrub, and cottonwood trees. This location provides excellent opportunities for birding and general sightseeing. Meet at the County Park parking lot (directions below). This guided, 1.5–2 hour tour is appropriate for all experience levels and age groups. Advance reservations are recommended.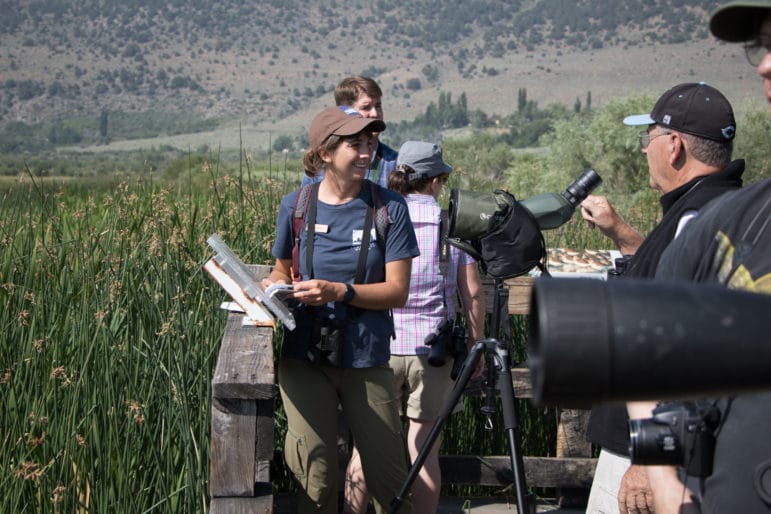 Details
Date: Thursdays at 5:00pm, Fridays and Saturdays at 8:00am
Price: Free.
Event Category:
Additional information:
Meet at the Mono Lake County Park parking lot.
Tours are free, but reservations are encouraged to secure your spot (no reservations needed for Thursday and Sunday tours).
Please bring binoculars if you have them. Some binoculars will also be available to borrow.
(760) 647-6595
info@monolake.org
Frequently Asked Questions
Are reservations required for the Mono Lake County Park Bird Walk?
No, however, reservations are recommended to secure a space for you, your family, or friends.
What else can I do on my visit to Mono Lake?
Visit monolake.org to learn more about other tours and trips at Mono Lake. If you're using a smartphone, you can also visit monolakemobile.org to sign up for a canoe tour or take a self-guided tour of South Tufa.
How do I get to County Park?
From Highway 395 turn onto Cemetery Rd (follow signs for County Park/Mono Lake access, 5 miles north of Lee Vining). Continue straight for about 0.3 miles and park in the parking lot on your right.
What should I bring for the tour?
Please bring binoculars if you have them, sun protection (sun hat, sunscreen, sunglasses) and plenty of drinking water.
Who should I contact if I have additional questions?
How can I cancel my reservation?
Please reply to your confirmation email to cancel. If you're having trouble finding your confirmation email, you can also click here to send us an email or call (760) 647-6595.