June 28
@
4:00 pm
–
5:00 pm
During the summer, Refreshing 'Ologists lectures happen on select Wednesdays at 4:00pm in the Mono Lake Committee Information Center & Bookstore gallery. Presentations last about one hour and include light refreshments.
Come hear from the researchers who are conducting studies in the Mono Basin and the surrounding area on topics like hydrology, wildlife, birds, climate change, and more. We have hosted more than 40 lectures since 2010.
Current schedule of talks
June 28: "Quantification of Recent Movement, Ice Thickness, Ablation, and Meltwater Contributions of the Dana Glacier" with Ellery McQuilkin.
July 12: Spotties, streams, and sex: reproductive behavior of Spotted Sandpipers in a flood year at Mono Lake tributaries, with Jessica Schaeffer and Tessa Patton.

Description: Spotted Sandpipers are migratory shorebirds that breed across North America and are well-known for their socially polyandrous mating system (in which females pair with multiple males simultaneously and males are the primary caretakers of eggs and offspring), yet little is known about their behavior in high elevation aquatic habitats such as the Eastern Sierra Nevada. We will discuss our ongoing research on the mating and parental behavior of Spotted Sandpipers breeding along Mono Lake tributaries. This research explores how behavioral variation in males and females relates to ecological factors, such as food and predation. In addition, we are using RNA-sequencing to analyze gene expression in Spotted Sandpipers of different sexes, ages, and breeding stages, in order to evaluate the molecular mechanisms that give rise to sex differences in behavior and morphology. Finally, we will discuss how the record-breaking precipitation over winter 2022-23 has changed riparian habitats in the Mono Basin and impacted Spotted Sandpiper breeding success.

July 26: Greater Sage-grouse with Nicole Lindenauer
August 9: Avalanches with Sue Burak
August 23: Pinyon Jays with Ned Bohman
September 6: Phalaropes with Ryan Carle and Kiki Tarr
September 20: White-crowned Sparrows with Jessica Malisch
Lectures will be listed as they are scheduled, so be sure to check back to reserve your seat for upcoming talks. We hope to see you there!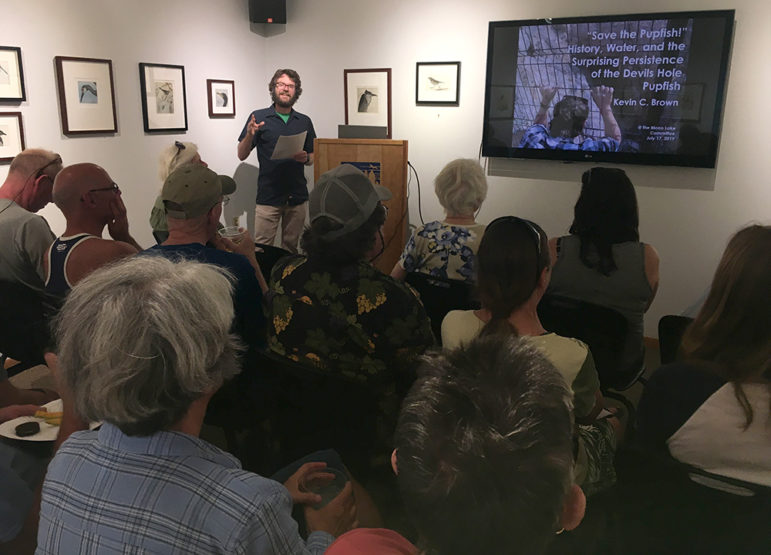 Additional information:
Meet in the Mono Lake Committee Theater & Gallery.
Light refreshments will be served.