Wild & Scenic Film Festival
March 11
@
7:00 pm
–
March 16
@
11:59 pm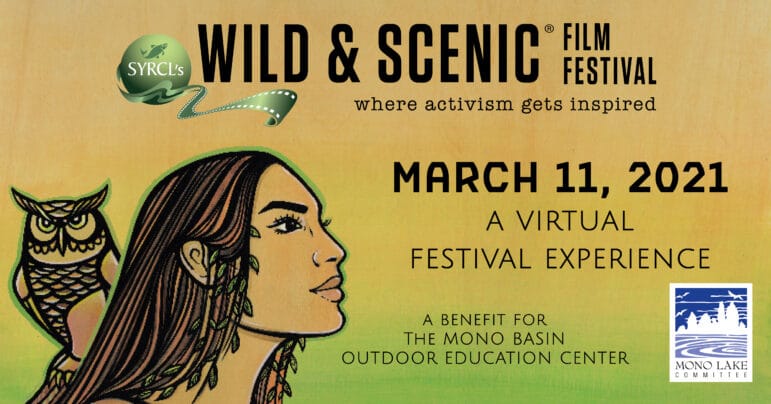 Wild & Scenic Film Festival: A virtual festival experience
Presented by the Mono Lake Committee
Join us for an evening of short films on hiking, biking, paddling, surfing, conservation, community, and wild places. This year, for the first time, you can join us from anywhere with an internet connection.
You can watch the festival live on Thursday, March 11, 2021 at 7:00pm Pacific ("doors" open at 6:30pm) to hear from Committee staff and learn more about the Mono Basin Outdoor Education Center and the current health of Mono Lake. With the live virtual experience, Committee staff will be there with you on live chat so together with fellow Mono Lake Committee members you can share thoughts on the films, get caught up on all things Mono Lake, enjoy the films in the comfort of your own home, and even have a chance to win some great raffle prizes.
With the purchase of your ticket you can watch the event at anytime for 5 days following the event (up to Monday, March 15).
All proceeds benefit the Mono Basin Outdoor Education Center.
Tickets
Tickets are now on sale! Get your tickets early and save 20% using promo code MONOLAKE20. Email us to learn about special discounted tickets for students.
Individual Admission
$10
Includes full festival admission for one person, plus one raffle ticket.
Household Admission
$25
Includes full festival admission for one household, plus two raffle tickets.
Tufa Benefactor
$40
Includes full festival admission for one household, plus three raffle tickets, and a $15 donation to the Mono Basin Outdoor Education Center.
Stream Benefactor
$50
Includes full festival admission for one household, plus four raffle tickets, and a $25 donation to the Mono Basin Outdoor Education Center.
Lake Benefactor
$75
Includes full festival admission for one household, plus five raffle tickets, and a $50 donation to the Mono Basin Outdoor Education Center.
After creating a Qudio account and purchasing your ticket you will receive an email from Qudio. Make sure to save your password and check your spam/junk folder. You will receive an additional email from Qudio close to the event day with the viewing link and instructions. We will also send out detailed instructions for attending this event to all ticket holders the week of the event.
Film lineup
Check out the full lineup of films we're featuring this year below. Mono Lake Committee staff will also be making special appearances throughout the evening between films, and there will be a ten minute intermission in the middle of the film program when the raffle will be held.
The Crown
4 minutes
Thru hiker and veteran Will "Akuna" Robinson completes the Triple Crown of Hiking: the Appalachian Trail, the Pacific Crest Trail, and the Continental Divide Trail. This film shares Robinson's thoughts on this incredible achievement that made him the first African American male on record to complete the Triple Crown of Hiking.
A Northern Light
13 minutes
Riverhorse Nakadate makes his way by canoe through endless miles of wilderness to celebrate the stunning and surreal lakes and forests, illuminate and juxtapose the serious and perilous threats at hand, and to show a deep poetic reverence to the last remaining places of incomparable beauty.
Pedal Through
14 minutes
Analise Cleopatra had never camped or ridden a bike off the pavement when she decided to plan a week-long mountain biking adventure with an all black female team. With raw authenticity, Analise shares all the intimate foibles, fear, fun, and beauty of discovering her place in the outdoors as she leans into uncertainty, accepts support, and trusts herself on this wild ride.
Tabira
17 minutes
During his career as a vet, Alfonso Bañeres has recovered hundreds of birds of prey and wild animals. But among all of them one stand out among others. Tabira tells the story of a family of veterinarians who adopted a chick that nobody wanted. The unexpected arrival of a raptor ends up becoming a daughter and a high-flying sister, changing their lives forever.
PATHFINDER: Life beyond fear
10 minutes
This film follows six world-class slackliners on a highlining mission deep into the Norwegian mountains to attempt something that has never been seen before: Walking a thin line, elevated in the vastness between two colossal cliffs, illuminated only by the mystical northern lights.
Dani Burt
11 minutes
For the first few days after she awoke from her coma, Dani Burt didn't know her right leg, from just above the knee down, was gone. When the doctors finally told her the full extent of her injuries, Burt, an active, hungry-for-life person, wasn't sure if she could go on. But she found the courage to continue through surfing, which led her on a path to becoming the first-ever women's World Adaptive Surfing champion.
Venture Out
15 minutes
The Venture Out Project, founded by Perry Cohen, is a nonprofit organization that brings LGBTQ folks together outdoors. In sharing Perry's story, and hearing from the other Venture Out Project participants, we get a glimpse into the healing qualities of nature and life-saving community bonds that are being forged as a result of Perry's work.
District 15
23 minutes
This film highlights the hope and tenacity of the young activists of Wilmington, California as they push the Los Angeles City Council to prohibit new and existing oil and gas drilling operations within 2,500 feet of homes, schools, and hospitals.
Raffle prizes
Check out all the raffle prize packages you can win this year below. Every ticket to the festival includes at least one free raffle ticket.

Contact us
Questions? Contact Digital Engagement Coordinator Andrew Youssef by email or phone at (760) 647-6595.