Aspens glimmered and quaked as the gentle wind moved through the grove. High above, Lundy Canyon's signature red rock contrasted with bright white snow patches, remnants of a long winter. The canyon was brimming with the repercussions of the large winter, illustrated by fields of red paintbrush, dense vegetation, and rushing water. Bursting with life, newly formed mud flats provided excellent habitat for the many butterfly species of Lundy Canyon. Here you'll find swallowtails, blues, checkerspots, admirals, coppers, and many enthusiastic butterfly observers.
The 12th annual Yosemite National Park Butterfly Count took place on July 31st (always the last Monday in July), based out of Tuolumne Meadows. More than 60 people—researchers, scientists, experts, and amateurs alike—congregated to count, discuss, and celebrate the local butterflies of the Sierra Nevada.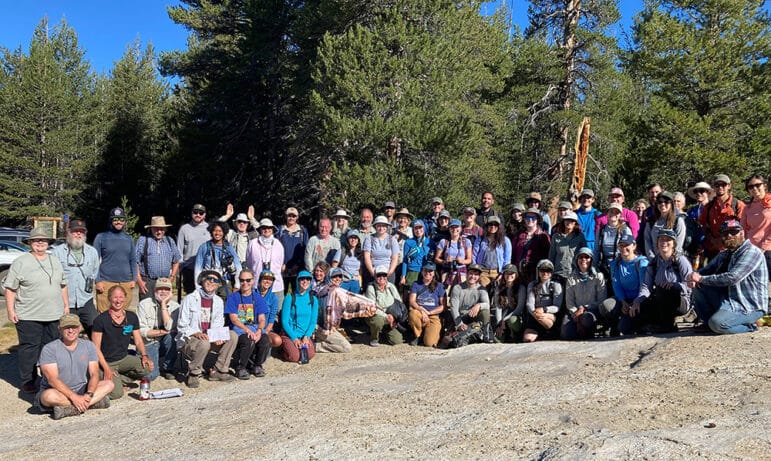 Yosemite's butterfly count is part of a national effort of the North American Butterfly Association to document the long-term population trends of butterflies, providing a yearly snapshot in time of butterfly species health and prosperity. The count covers a 15-mile diameter circle centered on Tioga Pass, spanning west toward Tuolumne Meadows and east to the edge of Mono Lake. Participants separate into eight groups to cover butterfly hot spots, including Tuolumne and Dana meadows, Saddlebag Lake, Lundy Canyon, and Mono Lake County Park. Afterwards, the groups came together to compare notes and compile a list of all the butterfly species that were counted that day. This count provides an important annual reference point for the number of individual butterflies and the number of species that live in the Sierra Nevada.
Butterflies are important to monitor and protect, not only for their intrinsic beauty, but also for their importance as pollinators and as a food source for birds. This year was especially exciting for butterfly seekers. Because of the lingering snowpack and abundant water, many butterfly species were observed that would otherwise have departed earlier in the season. The wildflowers were blooming later, and the melting snowpack had turned meadows to wetlands and created new avalanche scars. The unusual year was a wonderful chance to see unexpected butterfly species and an overall higher abundance of butterflies in general. At the end of the day's compilation, the leaders tallied their numbers and exclaimed over the exciting results—more than 70 species of butterflies—one of the highest species counts for this annual event.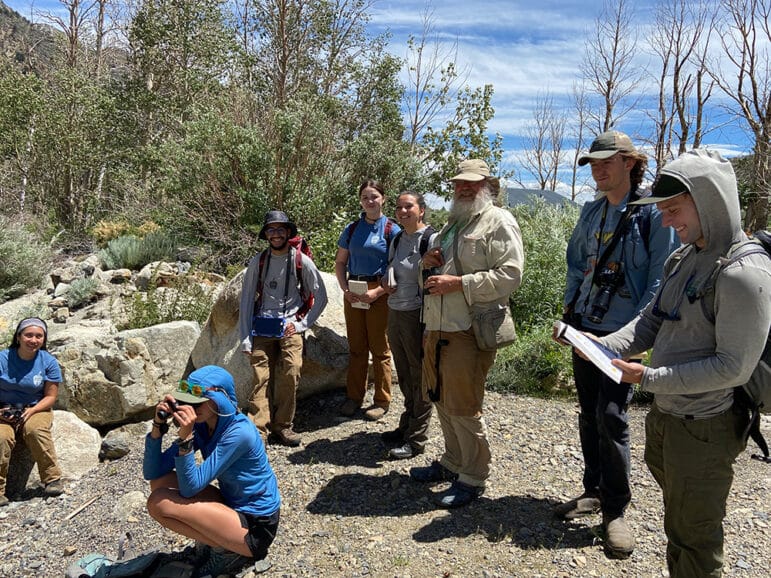 As one of the amateurs of the butterfly count, I was amazed by the contagious excitement for these small insects. A mudflat that I would have normally passed without a glance was transformed to a butterfly paradise with hours' worth of mystery and observation to be explored. Doing a deep dive into a small piece of habitat opened my eyes to all that is hidden right under our noses. In the days since I had the privilege of joining the butterfly count, I've noticed more butterflies than I've ever observed before! I am already feeling curious about next year's butterflies and what they will tell us about the melting snowpack, the flowering plants, and the pulsing life of the Sierra Nevada.
Top photo by Autumn Stock.