The Mono Lake Committee has a celebrated tradition of honoring individuals who champion Mono Lake and advocate for the public trust with the Defender of the Trust Award. The California Supreme Court wrote one of the more succinct and elegant definitions of the public trust doctrine in its landmark 1983 Mono Lake decision: "The public trust is an affirmation of the duty of the state to protect the people's common heritage of streams, lakes, marshlands and tidelands…." In 1970, Professor Joseph L. Sax wrote the article, "The Public Trust Doctrine in Natural Resource Law: Effective Judicial Intervention" in the Michigan Law Review. It ignited discussions about the public trust that eventually inspired the people working to save Mono Lake—specifically on National Audubon Society v. Superior Court, which established that the public trust applies to Los Angeles' water rights and requires the protection of Mono Lake.
On April 30, 2013 the Committee honored Sax at the Defender of the Trust award ceremony in Sacramento. The event brought together many old friends and cohorts, and was a fitting celebration of Sax's contributions to Mono Lake. Additionally, it was a great way to celebrate the 30th anniversary of this landmark legal decision that continues to be relevant at Mono Lake and beyond.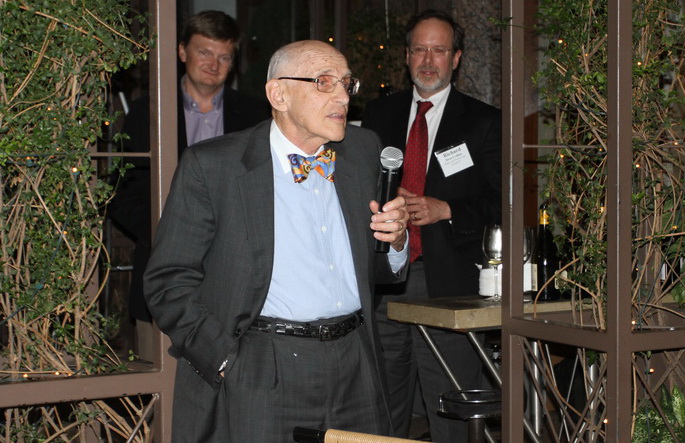 Special thanks go to event sponsors and organizers Morrison & Foerster; Richard Roos-Collins, California Trout attorney with the Water & Power Law Group; and Peter Vorster, consulting hydrologist for the Mono Lake Committee. The next Defender of the Trust Award will be given during the Defense Trust Weekend at Mono Lake September 26–28, 2014.