This Winter & Spring 2016 Mono Lake Newsletter article was written by Kristie Nelson, Point Blue Conservation Science.
Monitoring of the Mono Lake California Gull colony by Point Blue Conservation Science researchers and volunteers to help understand how wildlife populations respond to ecological change over time continued in 2015.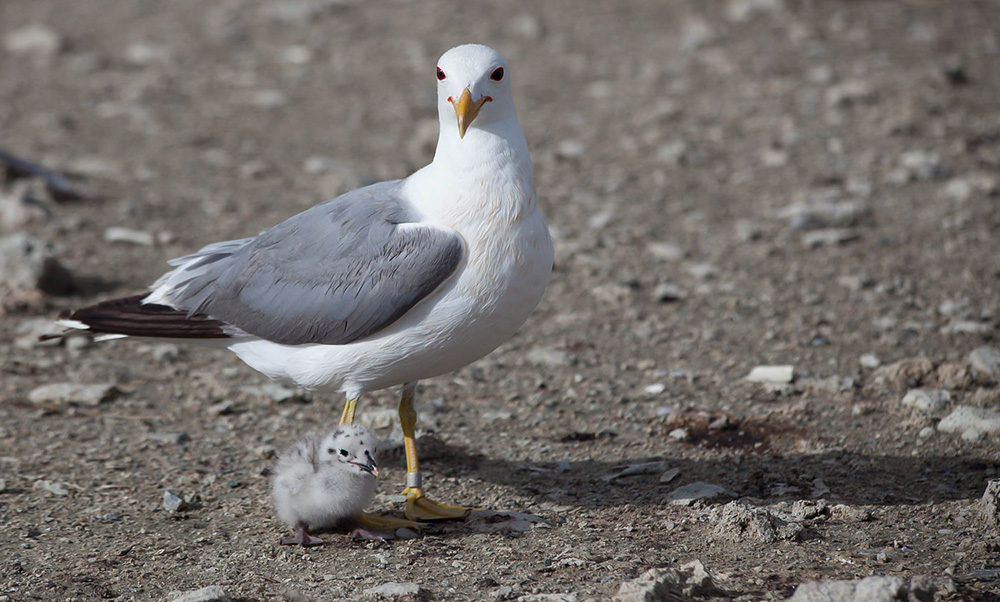 It was a very successful year for the gulls: both population size and chick production were above-average. Chicks were numerous and heavy, which indicates that they were well-fed and healthy. The robust population was an especially welcome sight, as it may indicate a halt in the declining trend observed in recent years. We also saw several color-banded gulls that we had banded as chicks return as adults—that was a treat.
The troubling aspect of 2015 was the continuing decline of Mono Lake. I felt like a Venetian gondolier when navigating the waters north of Negit Island—the lake was too shallow in that area to run the boat motor. Just two years ago I could motor around Gaines Island; over the 2015 summer it became connected with the mainland.
From our observations, it appeared that coyotes had not realized they could swim or wade to some of the nesting islands. They did in 1996 when the lake was two feet higher than it was last summer—demonstrating their ability to cross a relatively wide moat when they know a food resource awaits. Plans are underway to protect the gull colony from coyotes if the lake continues to decline and keeping an eye out for any signs of coyotes crossing to the islands will again be an important component of the field research this year.
This post was also published as an article in the Winter & Spring 2016 Mono Lake Newsletter (page 7). Top photo courtesy of Point Blue Conservation Science.