As the Wilson's and Red-Necked Phalaropes return to Mono Lake this summer, so do the folks who are studying these captivating birds.
Last week the first of this summer's surveys was conducted by boat and from shore to monitor the birds' population status here at Mono Lake. That data will be utilized to gain a deeper understanding of the health of the two species across North and South America.
The study is spearheaded by Oikonos Ecosystem Knowledge's Ryan Carle, and continues the work started in the 2019 study at Mono Lake, the first phalarope surveys at Mono Lake in 30 years. This year, Ryan was joined by Ashli Lewis and Sarah Hecocks from California State Parks for the boat surveys, while Mono Lake Committee staff Nora Livingston and Bartshe Miller, plus Mono Lake Tufa State Natural Reserve emeritus Dave Marquart, Janet Carle, and Dave Carle counted from the shore.
Ryan said "This was our first survey of the year, catching the 'early phalarope season' at Mono lake—Wilson's Phalarope numbers typically peak in late July/early August, and Red-necked numbers not until late August/early September."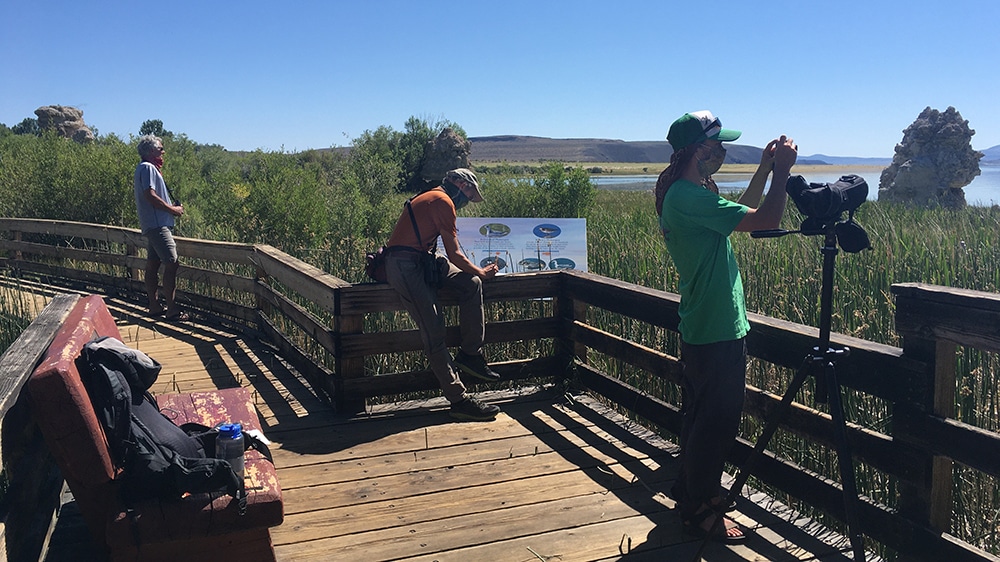 So, what are the surveys showing us so far, compared to last year? Ryan was able to give us some pretty amazing numbers already. He said, "On our first survey on July 16 we encountered only 670 Wilson's Phalaropes and 76 Red-necked. The Wilson's numbers were worryingly low given we saw over 6,000 Wilson's at Mono this time last year. However, on our second survey on July 18 we recorded around 2,800 Wilson's—probably indicating that a couple thousand birds arrived in the day between the surveys. On July 18 we recorded 131 Red-necked Phalaropes—numbers of that species were similar to last year's at this time."
It is pretty incredible the a difference a day makes… a couple more thousand Wilson's Phalaropes honing in on Mono Lake in such a short time span! And they are just getting started. Ryan and the team will continue the surveys throughout the summer and are coordinating with partners across the West at Great Salt Lake, Lake Abert, and Owens Lake who are doing the same. We will keep you updated with the results of the surveys as the season continues.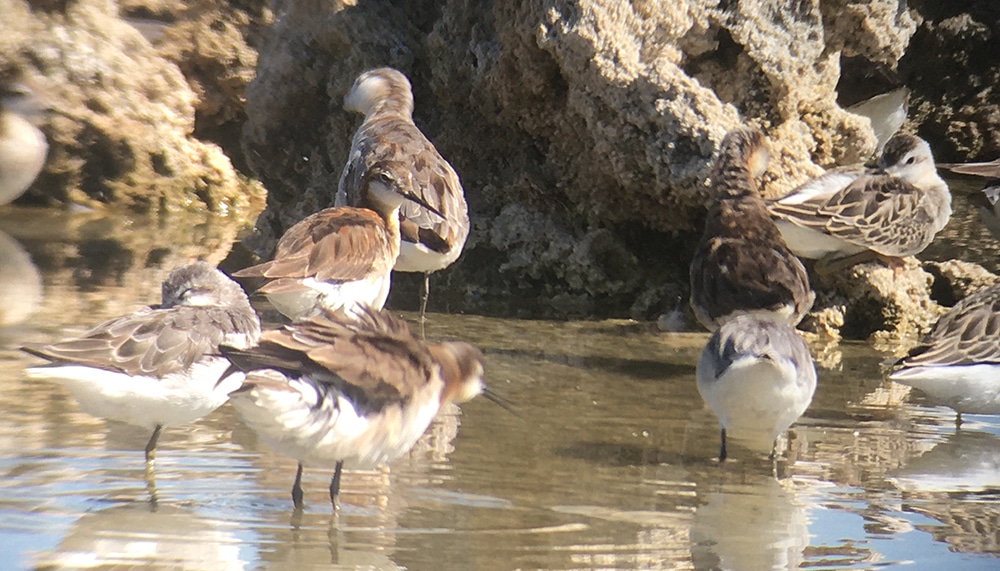 If you want to see more on the research, this video is a great overview of the efforts of the team and why these studies are important. Mono Lake—it's for the birds!
Top photo courtesy of Ryan Carle, Oikonos Ecosystem Knowledge.