In a monumental effort, the Inyo National Forest, in partnership with the Mono Lake Committee, conducted a series of prescribed fires with the specific goal of restoring California Gull breeding habitat on the islands in Mono Lake.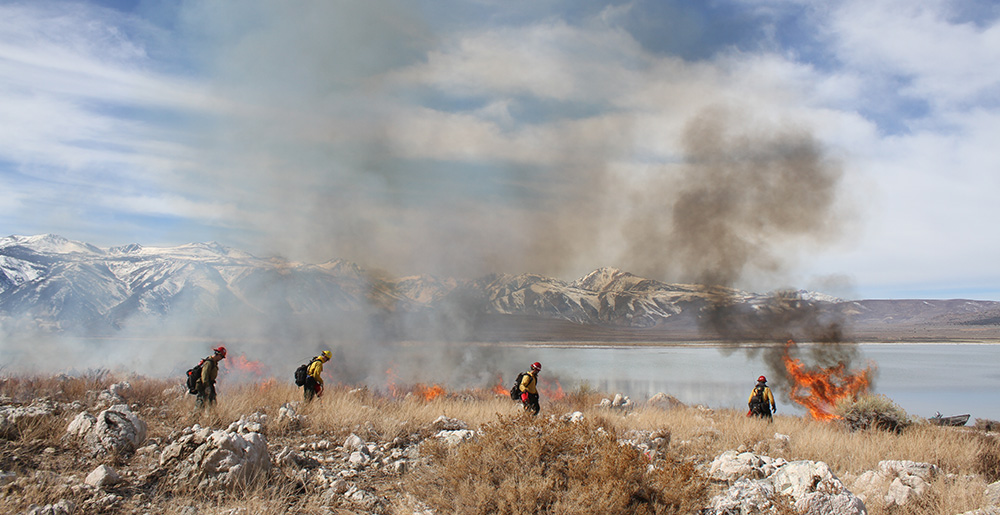 Working between episodes of wintry weather, the Committee and Inyo fire personnel raced to mitigate the impact of a troublesome invasive plant, Bassia hyssopifolia, that has grown to cover over 70% of the Negit Islets and is preventing California Gulls from nesting successfully.
Despite an initial, discouraging assessment of how well the weeds might burn, in mid-February a long-planned prescribed fire moved forward and resulted in a mosaic burn across much of Twain Islet. In addition to planning the project with the Inyo, the Committee captained our new 16-foot research boat to transport equipment, volunteers, and Inyo fire personnel to and from the islet in order to make the burn possible.
Cascading ecosystem changes
Bassia is an annual weed, now common throughout the West and rapidly expanding in the Mono Basin. Growing over three feet tall, it has transformed the formerly open-ground nesting habitat for California Gulls into an inhospitable, brushy thicket.
The California Gull has a long history of suffering impacts due to human activity. Mono Lake has traditionally been home to the second-largest breeding population of this species in the world after Great Salt Lake. Because of last century's excessive water diversions and the changing habitat wrought by a falling lake level, today's generations of California Gulls are struggling with the cascading ecosystem changes that now include this noxious weed (see Winter & Spring 2019 Mono Lake Newsletter).
According to Point Blue Conservation Science's 2019 annual report on the population size and reproductive success of California Gulls at Mono Lake, the estimated number of breeding California Gulls has declined steadily since 2016. The population is inversely tracking with the sudden expansion of Bassia across the Negit Islets during that same timeframe. The 2019 study estimated 22,150 breeding gulls, the lowest number in the 37-year history of the research project.
Fire resistant, but not fireproof
There is not much documented research on the burn behavior of Bassia, so last November Committee staff ferried Inyo fire personnel to Twain Islet to evaluate the fuel conditions of dense Bassia stands. Approximately half of the total nesting California Gulls at Mono Lake use Twain during the summer breeding season, making it the top priority site for action. Despite warm late-fall conditions, dry stands of Bassia did not burn well. This fire resistance, paired with irregular growth density and distribution over the beaches and rocky terraces of Twain, was discouraging for accomplishing a thorough burn over the islet. While the assessment did not eliminate the option to try burning, it complicated the operational logistics required to successfully carry out a prescribed burn.
A prescription for fire
Finally, in mid-February, with a window of clear, calm, and warm conditions, Inyo firefighters were able to attempt a test burn over large portions of Twain Islet to learn about Bassia's fire behavior. It burned much better than last fall's evaluation suggested it would, so the crews kept going. Afternoon conditions were ideal to burn small, dense stands of the weed, and several acres were cleared—exposing barren ground that was once perennially available to nesting California Gulls.
Using our new donated research boat, Committee staff made up to six trips per day back and forth moving firefighters, fuel, tools, and equipment out to Twain Islet. Additionally, Committee staff pumped water from Mono Lake and sprayed it on hand-removed and burned areas to test whether saturation with the alkaline water might prohibit or discourage remaining Bassia seeds from germinating. Committee and Inyo staff mapped and documented burned and sprayed areas for future evaluation of the weed eradication efforts.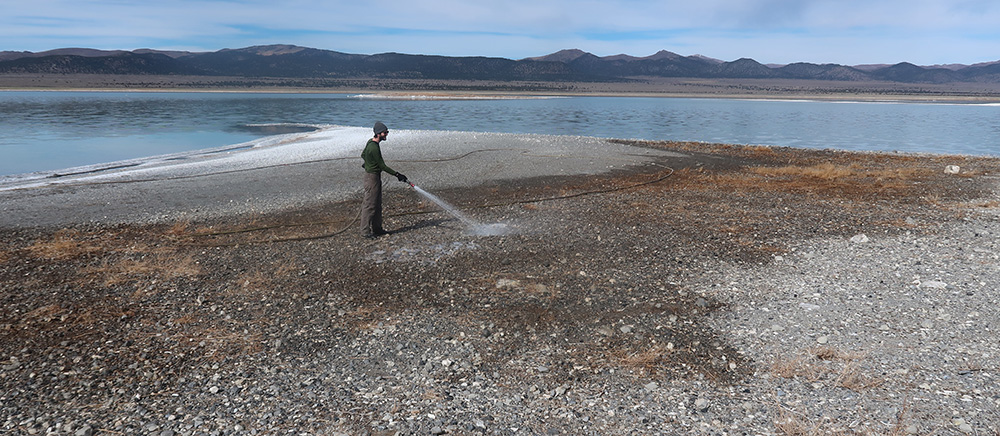 With little time before the gulls return this year, the Committee and Inyo National Forest are pushing to burn as much Bassia as possible. Committee staff and volunteers will hand-remove and pile weeds for future burning and spread lake water on test plots, which will be evaluated for Bassia regrowth after the nesting season. After a critically low nesting population in 2019, any progress to restore nesting habitat on this islet will provide much-needed relief for California Gulls in 2020 and, hopefully, beyond.
This post was also published as an article in the Winter & Spring 2020 Mono Lake Newsletter (pages 3 & 11). Top photo by Robbie Di Paolo.