This post was written by Erica Tucker, 2012 Project Specialist.
On Saturday morning, October 13, a small plane flew over Mono Lake. It banked multiple times, and then flew across the lake over and over. A sightseer? No, this was scientific research in action—the annual Eared Grebe aerial photo survey!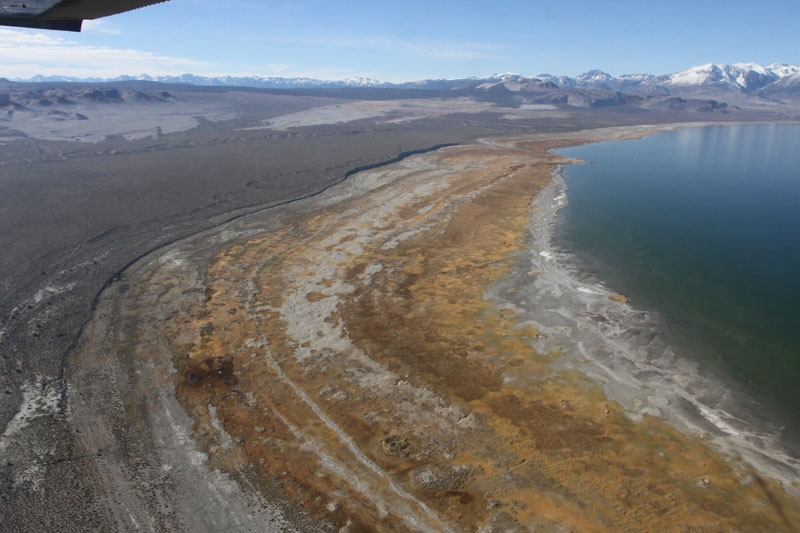 A bit of background: Eared Grebes nest in the northern Rockies and southern Canada, and visit Mono Lake mid-migration. While here in the fall, they undergo molt and gorge themselves on brine shrimp, fattening up for the next leg of their journey south to the Salton Sea and the Gulf of California. The migrating grebes at Mono Lake, in conjunction with those at Great Salt Lake, could represent 90% of the world's entire population. In 1996, Sean Boyd from the Canadian Wildlife Service in British Columbia received funding to research where the Eared Grebes were going after breeding in Canada. Through the use of radio transmitters, he learned half came to Mono Lake. Initial research involved tallying Eared Grebe numbers by boat, but Boyd developed protocol for conducting photo surveys from small aircraft. By flying transects of Mono Lake and photographing the surface at ten-second intervals, individual grebes can be counted and their total number can be estimated more accurately.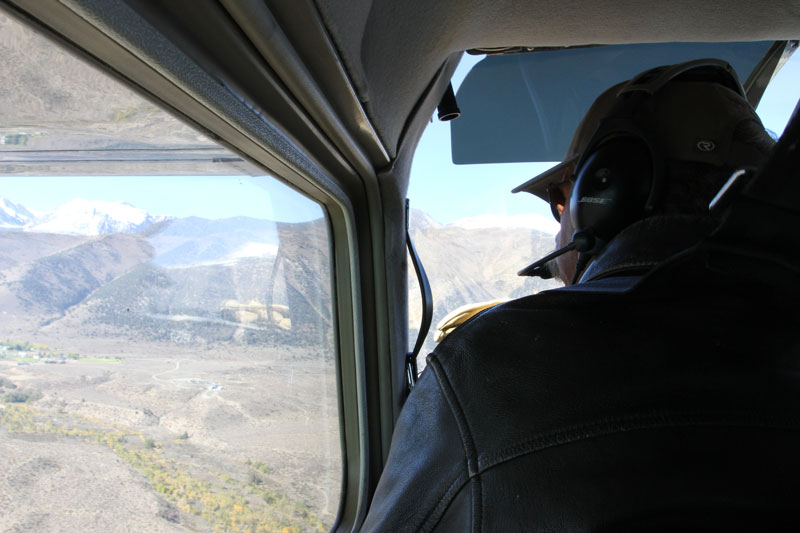 In 2008, the Canadian funding ran out and Boyd contacted the Mono Lake Committee for assistance. The Committee rallied, provided staff support, and now coordinates the aerial photo survey with assistance from LightHawk volunteer pilots and local volunteer photographers. We gather the photo data and submit it to Boyd for analysis. Grebe counts on Mono Lake have fluctuated from over 1.8 million in 2000 to just under 600,000 in 2010, with last year's count around 900,000 birds.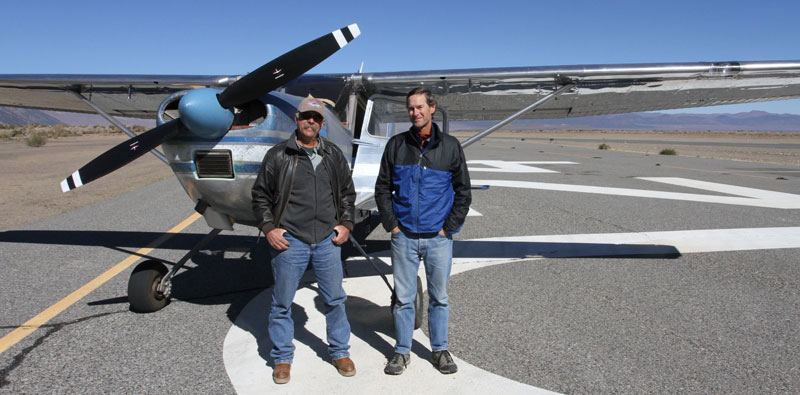 This year's survey had to be postponed a day due to bad weather, but October 13 was clear and beautiful. Geoff Pope, the pilot provided through LightHawk, flew his plane and local photographer Stephen Ingram manned the camera. Check out Stephen's website post and a few photos from the day here. The Committee's Arya Degenhardt joined the crew to get some nice action shots, as well as beautiful shots of the fall colors in the canyons and the early snow coating the Sierra Nevada. Committee staff Bartshe Miller, Angie Glaser, and I set up targets on the ground (large white X's on a black background ) so Boyd has an accurate measurement to form the base of his surface area calculations. Arya reported that there are tons of grebes on the lake—will it surpass one million this year? We'll report the results later this winter!