The faucets are open above California these days, which here at Mono Lake has resulted in 64 inches of new snow since the new year began! This is great news for Mono Lake and for some relief from the drought conditions of the last few years. Enjoy these snowy scenes from the last two weeks.
On January 6 Robbie and Andrew skied to the gauge to check Mono Lake's level, which was 6378.79 feet above sea level. That was 0.45 feet higher than the lake level reading from January 2—Mono Lake is rising!
On January 9 and 10 the next atmospheric river weather pattern arrived in the Eastern Sierra, closing highways and absolutely shellacking everything with snow. On those two days we recorded 32.6 inches of wet, heavy snow in Lee Vining.
On January 12 Highway 395 reopened and staff who live outside of Lee Vining were finally able to get to town and help dig the bookstore and offices out from under all that snow! Pictured here are Alyx, Nora, Leslie, Lily, Claire, Kristin, Geoff, Maureen, Robbie, Andrew, Santiago, and Bartshe. (Photos by Elin Ljung.)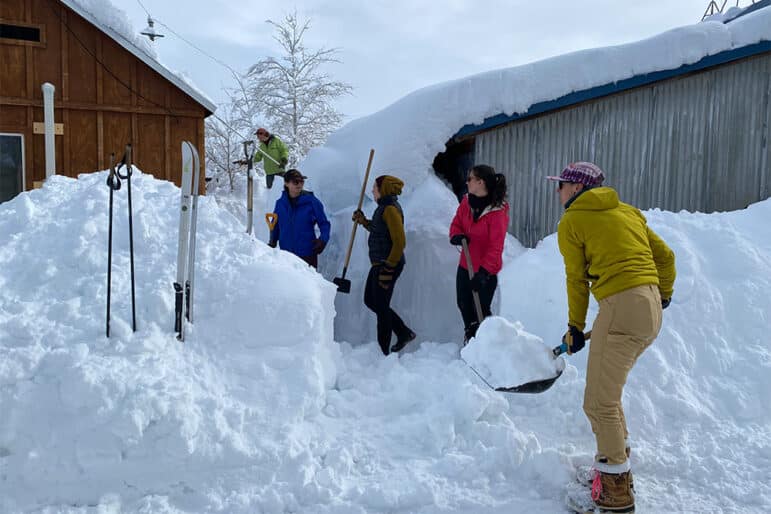 This morning Robbie and Maureen (plus Garnet the dog) skied back to the lake level gauge to take another reading. They started in the sunshine near the Mono Basin Visitor Center and descended into a thick layer of poconip fog hovering over the lake. They recorded a level of 6379.11 feet, an increase of 0.32 feet from the reading the week before.
Despite being trapped at home by closed highways and avalanche danger we are all safe and grateful to be doing just fine. We've been in touch with family and friends across California as so many other communities have been devastated by the rain these storms have brought to the state. In this time of increasing weather extremes driven by climate change it's already a remarkable winter here at Mono Lake.
Top photo by Andrew Youssef: Robbie reads the lake level gauge on January 6.