Last century's water diversions from the Mono Basin greatly changed the ecosystem of Mono Lake, and that legacy continues to test successive generations of California Gulls. A falling lake level, the first emergence of the landbridge in 1979, coyotes crossing to Negit Island, and gulls abandoning their once-secure breeding colony—these were tragic events. California Gulls (Larus californicus) became one of the rallying points for saving Mono Lake, and while the colony suffered, the birds adapted and shifted nesting to the newly-emerged islets adjacent to Negit that provided refuge from coyotes because they were still surrounded by water.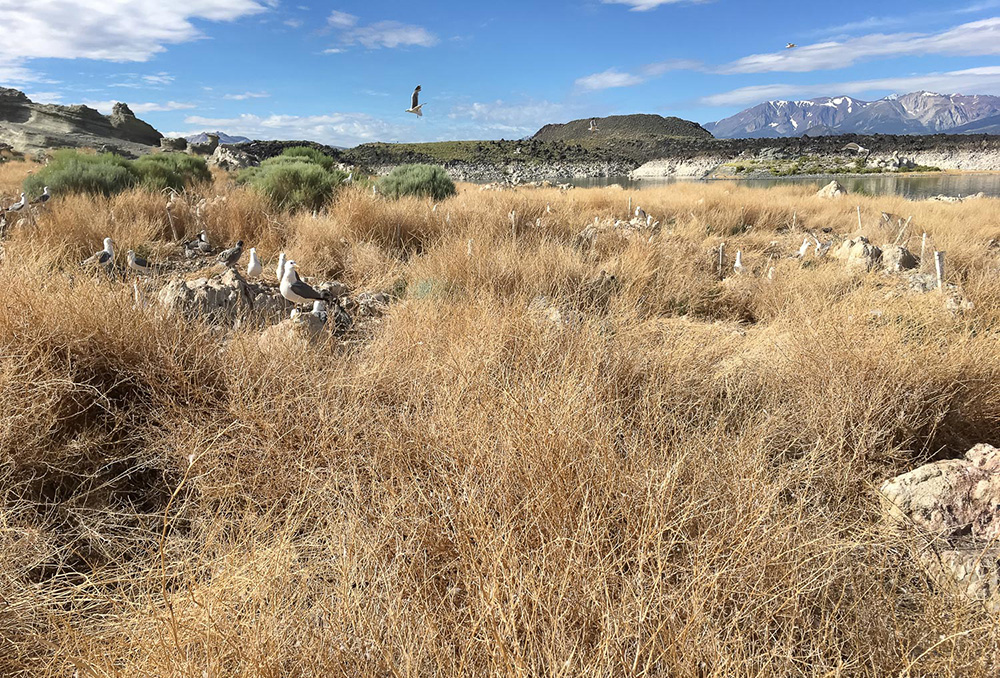 Challenges stack up
Because of lake level fluctuations the coyote problem never completely went away, and even as recently as the last two years, coyotes have posed a threat to the colony (see Winter & Spring 2018 Mono Lake Newsletter). With a rising lake and the timely deployment of an electric fence, the gulls dodged the most recent coyote incursion. But now a new and rapidly intensifying threat is testing the colony's endurance. An invasive weed, long-known in the Mono Basin, is suddenly overwhelming California Gull nesting habitat, covering open areas the birds need to nest successfully.
Bassia hyssopifolia is an annual, non-native weed. It is widely distributed in the West, and it was first documented near Fallon, Nevada, a century ago. Growth can exceed three vertical feet with multiple branches that extend outward and upward. Bassia favors damp, alkaline soil where other plants don't typically grow. The weed has long been present on the islets, but plants were few in number, of minimal size, and their distribution marginal.
Gull researchers first documented a pocket of concentrated Bassia growth in 2012 on Tahiti Islet, where its sudden appearance caused concern. However, at that point it did not appear to be a serious threat, and limited hand-pulling in one of the research plots seemed to assuage the problem. From 2012 to 2016, extreme drought lowered Mono Lake and temporarily minimized the advance of Bassia. As Mono Lake fell during the drought, the landbridge expanded, increasing the threat of coyote predation. Evidence of coyotes reaching Negit and the islets caused alarm in 2016 and the Mono Lake Committee fundraised and coordinated efforts to build a temporary, electrified fence on the landbridge. The fence required a significant investment in logistics, labor, and funds. It worked, and prevented coyotes from reaching the gulls during the 2017 nesting season.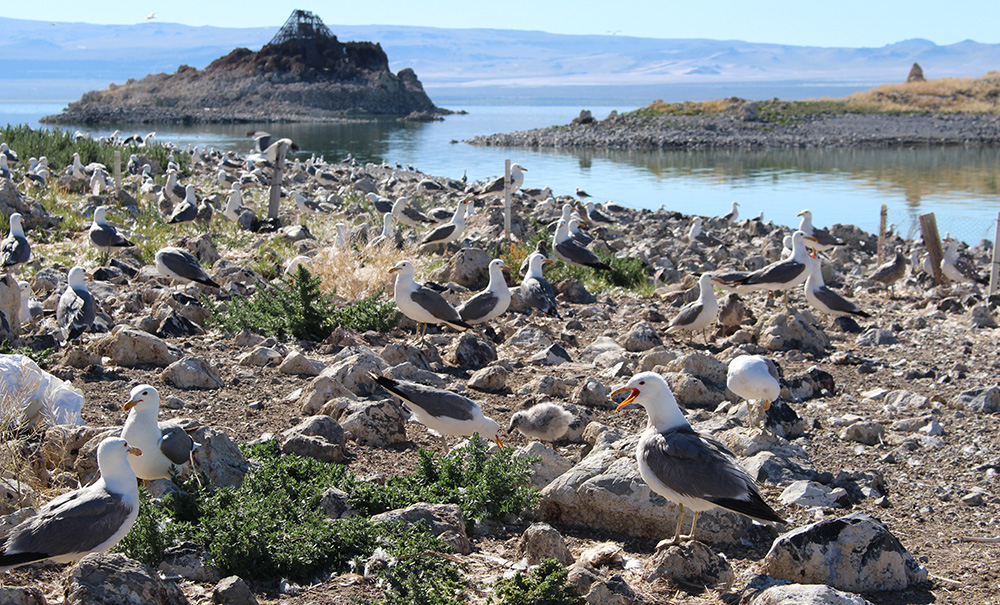 Barrage of Bassia
While attention was focused on the immediate threat of coyotes, Bassia growth exploded. During 2017, record winter precipitation and warmer than average temperatures may have contributed to its rapid expansion. The weed was now growing into extensive, thick stands that would die and form dense, woody tangles, persisting into the next growing season. Today Bassia has been documented carpeting 70% of the available California Gull nesting habitat on the Negit Islets.
In fall 2017, after the Bassia problem intensified, Committee staff and Kristie Nelson, biologist with Point Blue Conservation Science, met with California State Parks and US Forest Service staff to discuss strategies and solutions. The group decided to pursue a controlled burn on the Negit Islets. Thick woody Bassia skeletons that had built up after just one year would likely be cleared by fire—as long as the burn did not take place during the critical nesting season (April to August).
A burn on the Negit Islets before or after the 2018 nesting season never materialized. The details of planning a controlled burn, finalizing permits and management plans, and identifying an appropriate window of weather for both burning and boat transport to the islands were challenging to organize and time correctly. Another layer of logistical challenge in 2018 was wildfire. Last year proved to be the deadliest and most extreme year for wildfire in California history, so resources and crews were stretched thin.
A burn this spring?
The Committee is ready to assist the US Forest Service with a controlled burn in March before the start of the 2019 nesting season, and the Committee's new research boat is available to ferry people and equipment required for the burn. The permitting is complete and all that is required are dry conditions, a good weather window, and boats ready to deploy before April 1. If the burn falls through, the Committee will move to stage weed pulling with staff and volunteers to assess the current extent of the Bassia stand and the possibility of future, focused, hand-removal on the most impacted islets. Weather will be the determining factor.*
Over four decades of excessive water diversions from the Mono Basin displaced the gulls from a formerly stable colony to a collection of ecologically dynamic and extremely young islets. Coyotes and invasive weeds are threats afforded by an artificially lower lake level, and an ecosystem set off balance decades ago. As Mono Lake rises toward its management level, the gulls will have the chance to return to Negit and resume nesting on more stable habitat. Until then, if you see smoke rising from the islands in Mono Lake, it's a signal that help is on the way for the gulls.
———————————————
Generous donation funds a new research boat
This winter the Mono Lake Committee purchased a new, 16-foot research boat with a generous gift from Marjorie Rachlin, a longtime member from Washington, DC. The boat replaces a decades-old vessel that was well-worn by Mono's wind and waves. The new boat allows for more seating, has an extra-thick reinforced hull to withstand rough conditions on the islands, and has a more powerful motor for safety. Thank you to Marjorie!
———————————————
*The month of March was snowy, windy, and unsettled, with unsafe conditions for boating to the islets and adverse conditions for a controlled burn. Therefore a controlled burn did not happen, nor did weed pulling by Committee staff and volunteers.
This post was also published as an article in the Winter & Spring 2019 Mono Lake Newsletter (pages 6 and 12). Top photo courtesy of Kristie Nelson.