The 20th Mono Basin Bird Chautauqua was a huge success! The weekend brought more than 200 participants to Lee Vining for 100 trips, classes, and talks over the course of the weekend.
This year presenters had to navigate the unique challenges for birding trips that were left over from a very wet winter. Whether it was a road that was reclaimed by waterways or an unusual late June snowbank, they persevered to make the trips a wonderful experience. During the weekend more than 140 bird species were observed.
The Chautauqua has always been about connecting people to birds, the beauty of the Mono Basin, and each other. This year that mission was extended even further, to our sister saline lakes across the world.
Brought together by the bird that connects us all, this year's Chautauqua included a Phalarope Festival, a celebration of the Wilson's Phalarope. Lee Vining hosted advocates, artists, and stewards from Great Salt Lake in Utah and Laguna Mar Chiquita in Argentina—two of the phalarope's key migratory sites in addition to Mono Lake. This year's celebration included some new murals in town, special trips about saline lake ecology, and a phalarope costume contest!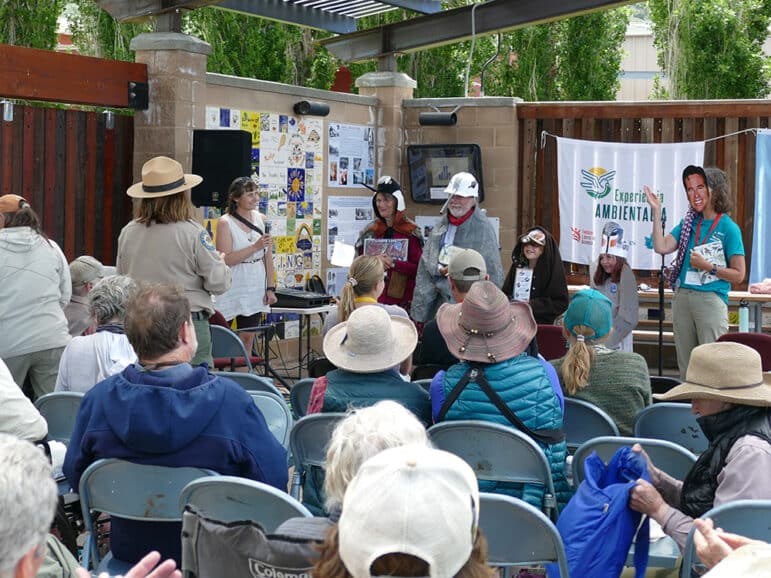 As part of the Phalarope Festival's goal to connect people from our sister lakes and around the world, a fundraiser was held to bring students to Mono Lake from the Experiencia Ambientalia program in Argentina. Next year, five of these students will be selected to come experience the Mono Basin to observe, learn, and play. Chautauqua participants had the option to bid on different raffle items throughout the weekend, the funds from which all go toward bringing these students to the basin.
As mentioned above, Lee Vining got a handful of new artwork around town, featuring some famous Mono Basin birds. We had the pleasure of hosting the talented muralist, Franco "Vato" Cervato, for the weeks leading up to Chautauqua. Over the course of his time here Vato painted four murals depicting the Wilson's Phalarope and one mural of the unique tufa-nesting Osprey. As part of the annual picnic, these murals were unveiled and dedicated.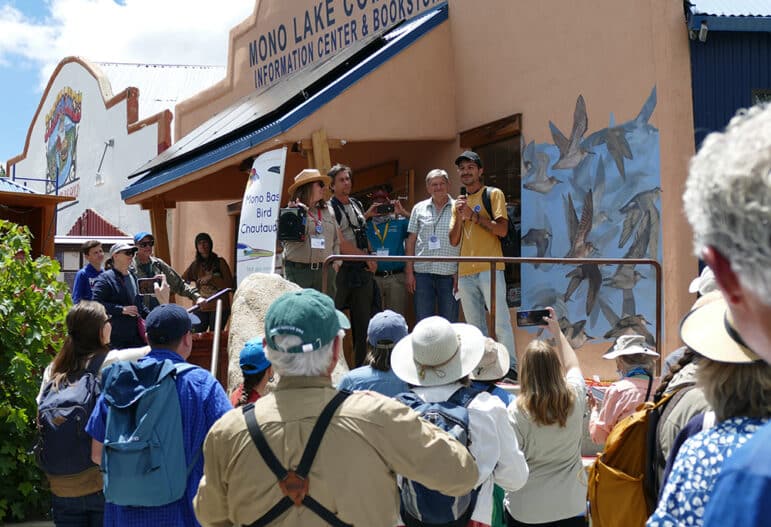 Thank you to the Chautauqua's organizing partner, the Mono Lake Tufa State Natural Reserve, and many other partners for another great year: Bodie Foundation, DeChambeau Creek Foundation, Eastern Sierra Audubon Society, Eastern Sierra Interpretive Association, Eastern Sierra Land Trust, Friends of the Inyo, Inyo National Forest, National Park Service, Point Blue Conservation Science, and Yosemite Conservancy. Thank you as well to Chautauqua sponsors El Mono Motel & Latte Da Café, Guadualito Birding Tours, Murphey's Motel, NOCS Provisions, and to all of the local businesses for accommodating our guests and leaders. Thank you to artist L. Wren Walraven for providing art for the Chautauqua program, T-shirt, and tote bag.
The Phalarope Festival would not have been possible without the organizing efforts of Janet Carle—thank you, Janet! Thanks also go to the groups working to protect phalaropes worldwide: Oikonos Ecosystem Knowledge, Manomet, Western Hemisphere Shorebird Reserve Network, Aves Argentinas, Parque Nacional Ansenuza, Friends of Great Salt Lake, Sageland Collaborative, and US Forest Service.
Mark your calendars for next year's Mono Basin Bird Chautauqua: June 21–23, 2024.
Top photo by Ryan Garrett.