Last Friday, February 1st, a few snowflakes began to fall as we were leaving work for the day. Anticipating the forecasted storm, Mono Lake Committee staff hurried home to make sure woodpiles were covered and houses were ready for "the big storm." And what a storm it was!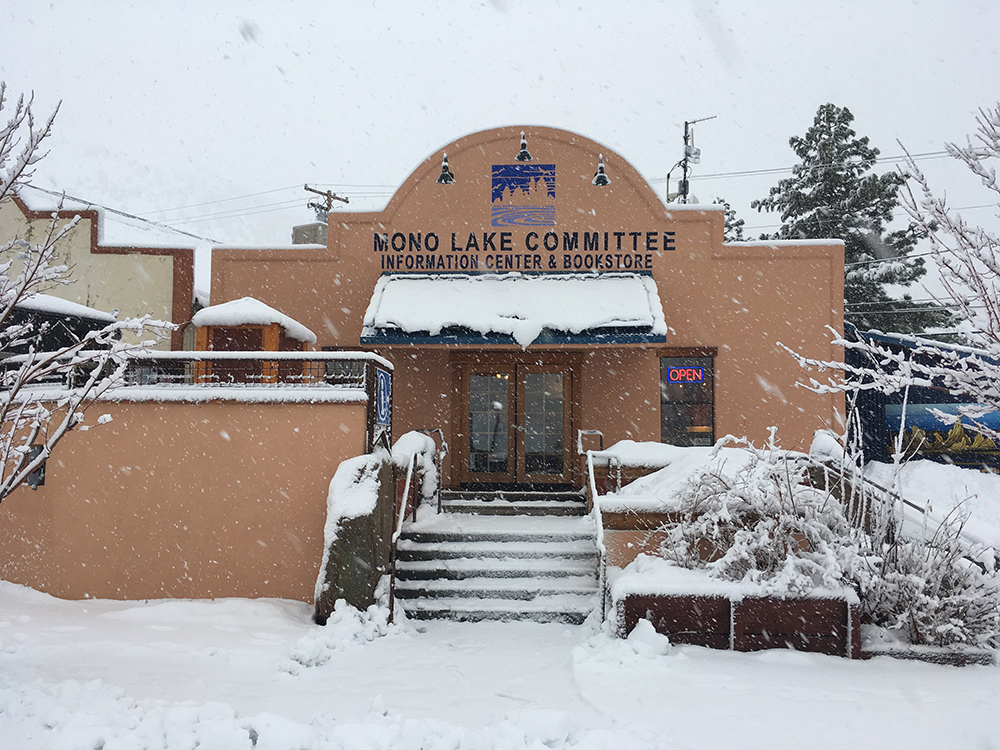 It started out slow, with only 4 inches of wet heavy snow falling overnight, but by Sunday, the temperatures had dropped and 9 more inches of dry fluffy snow had fallen. The town of Lee Vining transformed into a sparkling winter wonderland, with puffy snow pillows forming in yards and on roofs; each branch of the spruce trees in town wore big fluffy white hats.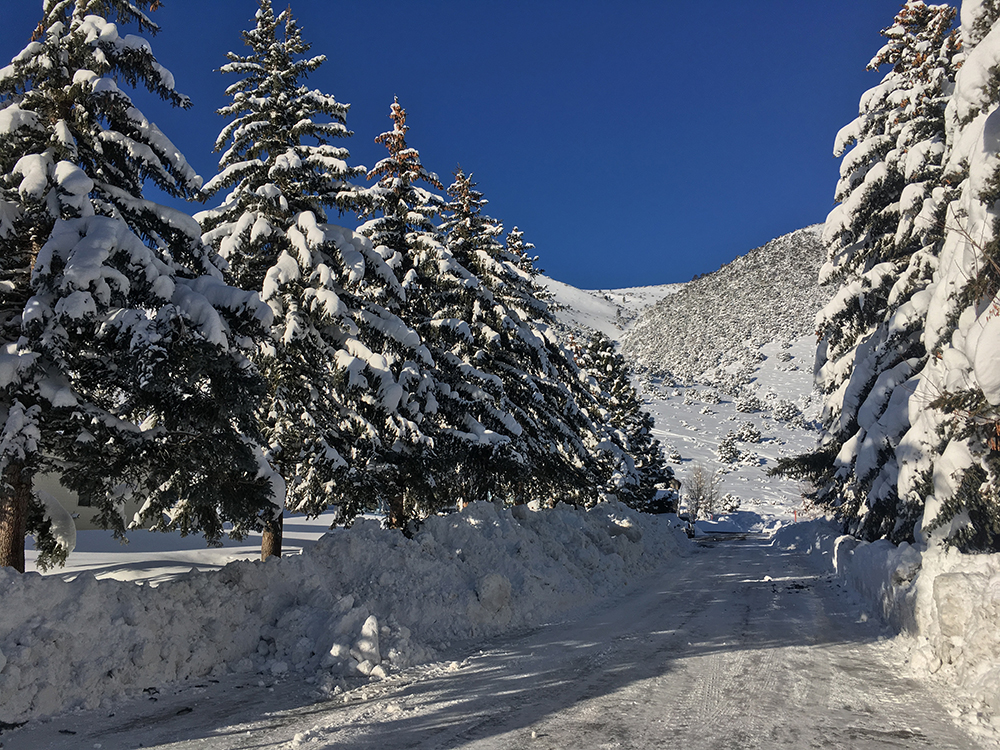 The snow just kept on coming, with rates of 3–4 inches per hour during the peak of the storm. Despite the heroic efforts of Caltrans snow plows, Highway 395 closed on Sunday night, and did not reopen until late Tuesday due to poor visibility and dangerous conditions. This meant that our staff who live in Mono City were stranded in their homes for two days, working remotely and spending their days shoveling and staying warm by the fire.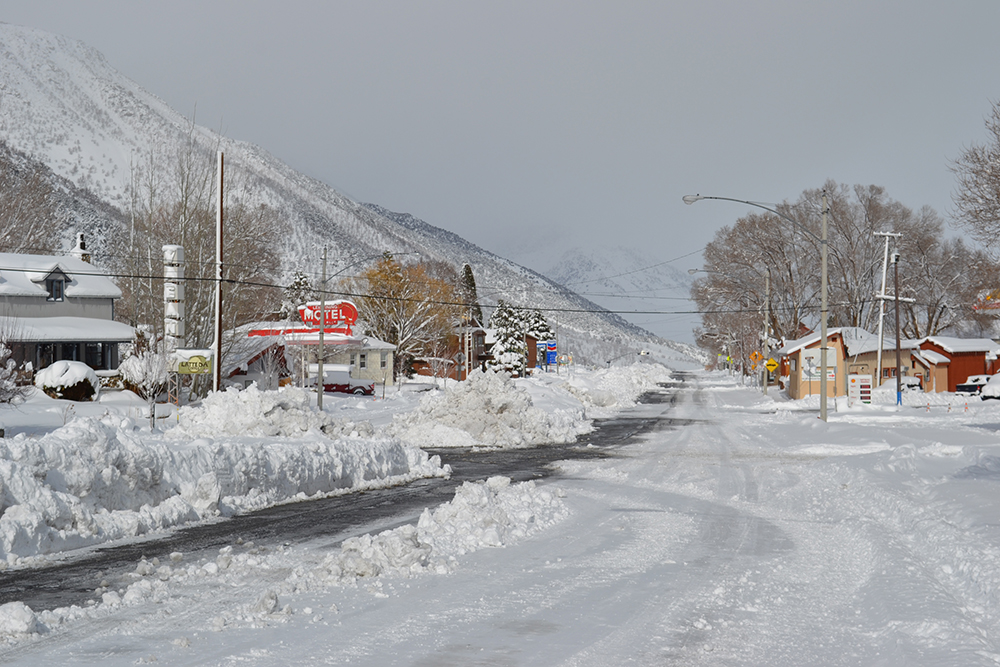 Meanwhile, staff who live in town were shoveling out the office as the snow piled up. Eleven inches fell between Sunday morning and Monday morning, and another 13 inches fell by Tuesday morning, bringing the storm total to 37 inches recorded. We went from bare ground to three feet of snow in 72 hours!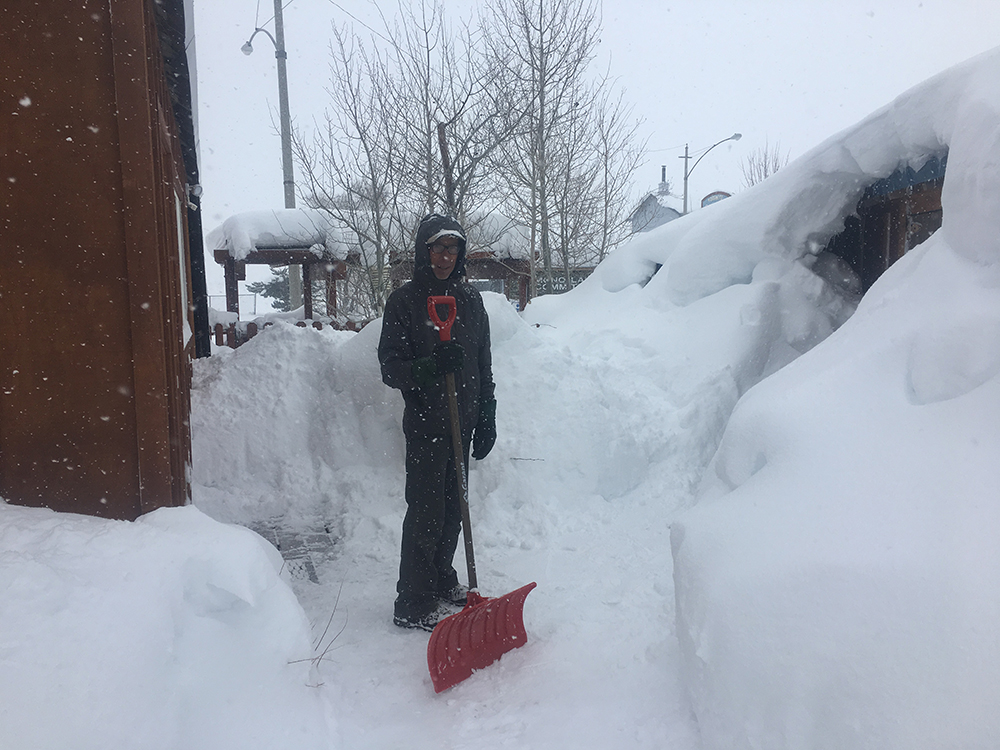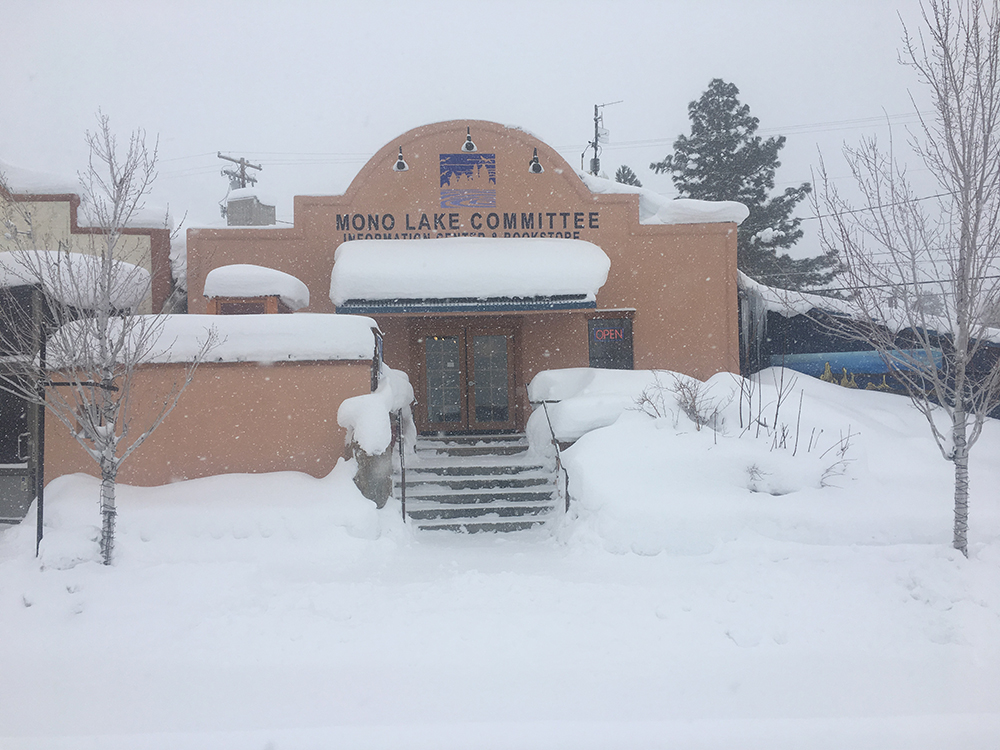 By Wednesday, everyone had shoveled themselves out and made it into the office, where we shared stories of our storm experiences. We work hard to protect Mono Lake year round, so when something as magical and majestic as this storm happens, we know how to enjoy it. A few staff members ventured out to take photos and enjoy the snow. This snow means great things for the work that we do, so a celebration is in order!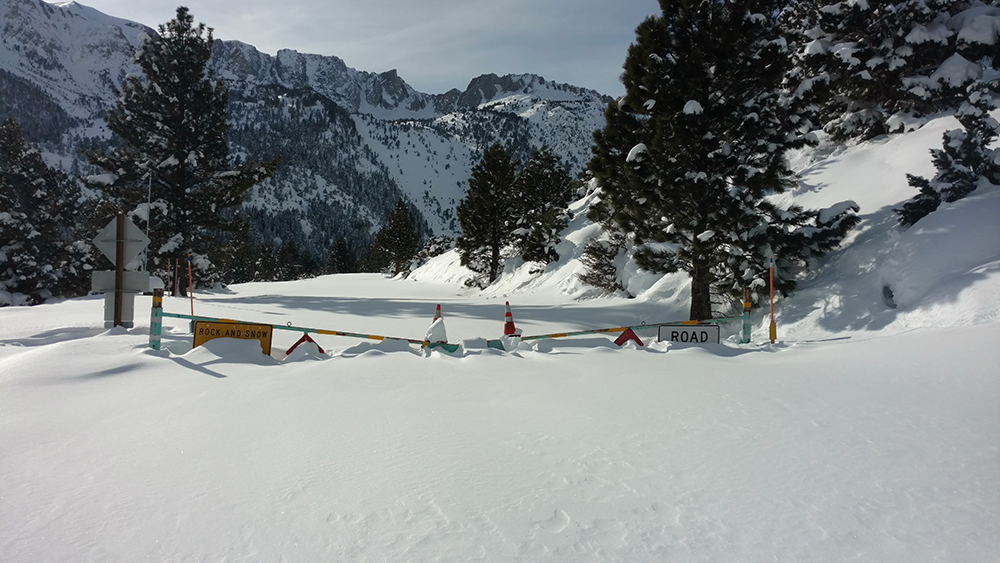 We have had a few days of clear weather, a few mornings of poconip, and we are currently in the midst of another small storm (6.5 inches already!). A few of our staff cross-country skied to South Tufa yesterday to take photos of snowy tufa towers, and I skied down to give the 1:00pm South Tufa tour. A total of five people participated!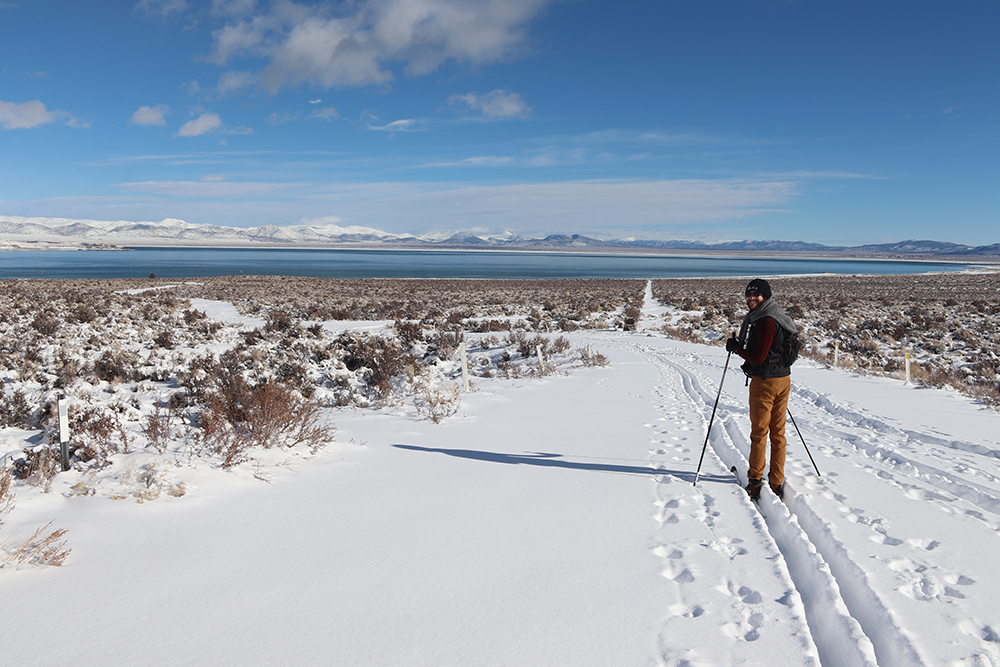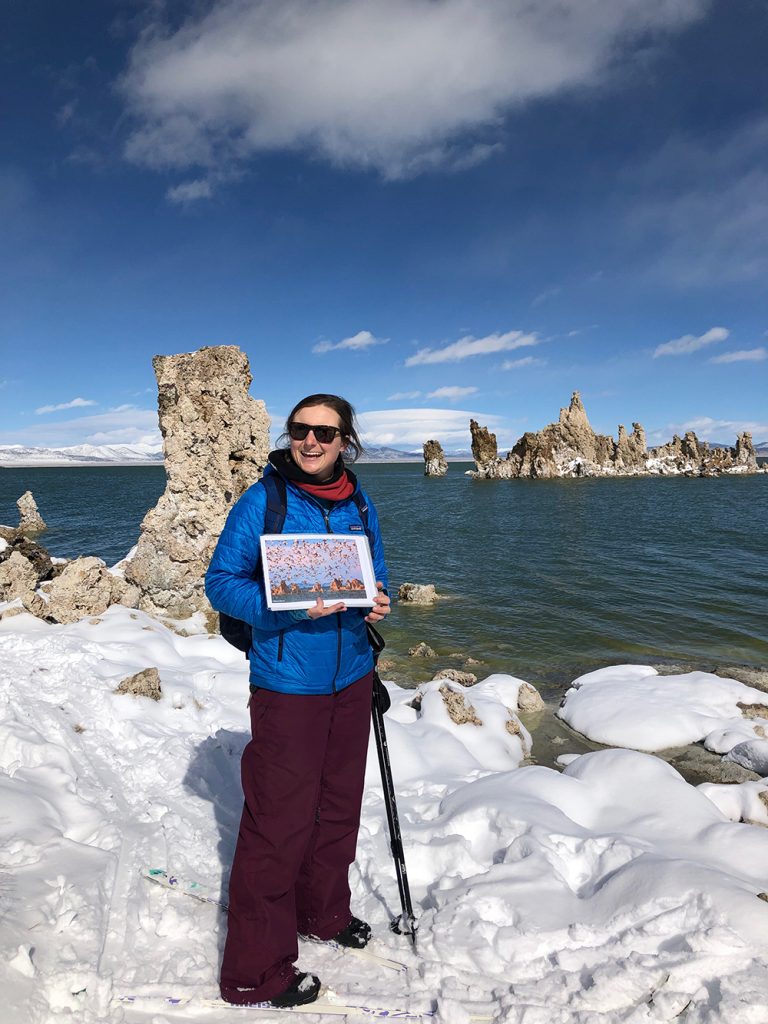 We love snowstorms because we know it means more water for Mono Lake! We are looking forward to more snow and more water for Mono in the coming weeks.