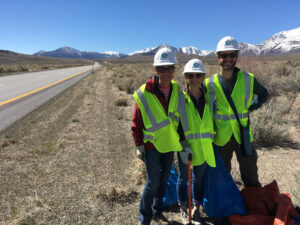 This post was written by Gabrielle Renteria, 2015 Bookstore Assistant, 2016 Mono Lake Intern, 2016–2018 Project Specialist.
This past Saturday, to celebrate Earth Day, Mono Lake Committee staff Andrew, Robbie, and myself, plus board member Sherryl Taylor picked up litter along our adopted one-mile stretch of Highway 395, just south of Lee Vining. It was a beautiful day and we enjoyed the opportunity to spend time in the warm spring sun.
After two hours we had collected five bags of trash and two of recyclables, and the highway was looking much better. Thank you to Sherryl and all of the volunteers who continue to make this project possible. If you are interested in helping out at our next Adopt-A-Highway cleanup, please call Jessica at (760) 647-6595.