This post was written by Jessica Schneider, 2015-2020 Office Director, 2011-2013 Information Center & Bookstore Manager, and 2010 Information Center & Bookstore Assistant.
This year's Andrea Lawrence Award Dinner had a slightly different feel from last year's, despite being in the same location (Mammoth Mountain's Parallax Restaurant dining room) and honoring the same remarkable woman. Perhaps it was the warm spring evening that made the gondola ride to the top of the mountain a little bit more pleasant. Or maybe it was the relaxed laughter of Andrea's family and friends as they shared happy memories of her constant determination and resolution.
Regardless, the setting was perfect for recognizing not only Andrea Lawrence, but also the Bodie Foundation for its dedication to California State Parks and helping keep the Mono Lake Tufa State Natural Reserve off the closure list.
Guests sat back after a spectacular meal donated by Mammoth Mountain, whose staff deserves a very special thank you, and listened to the keynote speaker, state park advocate and great great-grandson of John Muir, Robert Hanna. Robert's typical, endlessly energetic, "go-get-'em" mantra gave way to a heartfelt speech recognizing the legacy Andrea left of passionate engagement of community and the land.
After turning everyone's attention to the soon-to-be-named Mt. Andrea Lawrence, and Quentin Lawrence's stories about her mother, Geoff McQuilkin presented the Andrea Lawrence Award to the Bodie Foundation.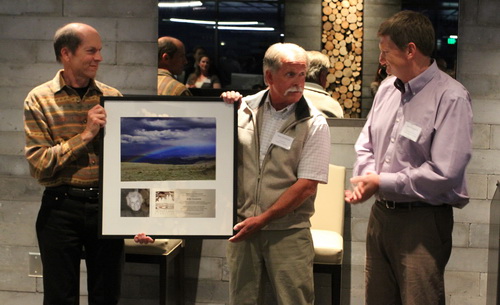 An evening filled with inspiration, celebration, and happy memories came to a close and tired guests enjoyed a starry ride down the mountain to conclude the second annual Andrea Lawrence Award Dinner.