One thing the Mono Lake Committee and the Los Angeles Department of Water & Power (DWP) can agree on is that accurate measurement of water exported from the Mono Basin is important. One might assume that measuring water sent out of the Mono Basin through the Los Angeles Aqueduct would be fairly straightforward, but due to infrastructure complexities, DWP has historically used a calculation to derive the export amount.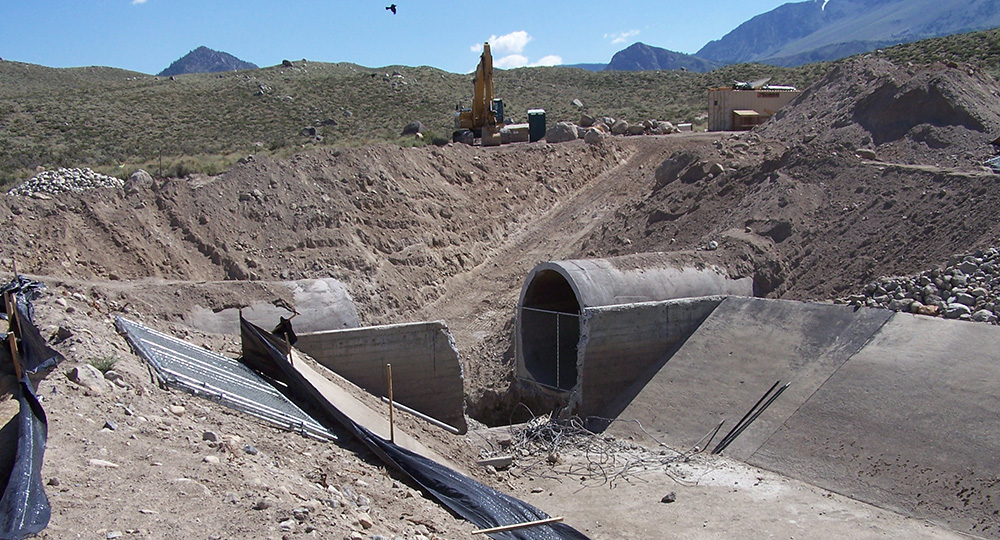 Getting from calculation to measurement
To understand why DWP couldn't simply measure its allowed export, one needs to understand how water leaves the Mono Basin. Water destined for Los Angeles leaves Grant Lake Reservoir in a concrete aqueduct, passes a release point to Rush Creek, and runs under Highway 395. It then enters an impressively long tunnel bored beneath the volcanic Mono Craters—ultimately exiting the tunnel at a location known as East Portal. Export measurements have long been made at East Portal using a flume, and are fairly precise; however, the amount of water that emerges at East Portal is not the same as the amount that departed from Grant Lake Reservoir. At East Portal there is more water due to "tunnel make," which is groundwater that the Mono Craters tunnel, like a well, has captured along its 11-mile-long path.
Because East Portal has historically been the point of measurement for aqueduct exports, an equation has been used to account for the groundwater inflow:
East Portal flow – tunnel make = Mono Basin export
Such calculations are not unusual in water management, but the Committee's concern has been that the value being used for tunnel make in this equation was too high, making the calculated Mono Basin export value artificially low.
The formula used to get the tunnel make number incorporated a 20-year-old estimate for this key term in the calculation, instead of a more accurate, already existing, annual measurement of tunnel make. So, if the reported daily export is less than the actual daily export, it can lead to total actual export that exceeds what is allowed. While the Committee has been understanding of infrastructure limitations, we have been asking DWP for years to update its calculation.
Persistence pays off
In 2009, when aqueduct improvements were underway, DWP installed a new weir close to Grant Lake Reservoir with the express purpose of being able to directly measure export water. Unfortunately, the weir was plagued by flow surges and other issues that only an engineer could love, so the Committee continued advocating for an updated annual adjustment to the export calculation.
This past January, the Committee wrote a formal letter to DWP highlighting the importance of this issue—and again offering options for a more accurate calculation and advocating for the infrastructure fix needed for direct measurement at the new but nonfunctional weir.
As a result of this letter, we learned that DWP had in fact acted in response to our concerns and had made engineering changes to the weir in 2017. But because no exports were happening at the time, the fixes couldn't be tested. DWP now reports that preliminary results show the recent fixes have worked. Which is to say, as of 2018, 77 years after building the Los Angeles Aqueduct, DWP is now directly measuring how much water is exported from the Mono Basin.
DWP's obligation to restore Mono Lake is only a small part of its massive operation, and it's hard to imagine that an issue like this would make it to the top of its agenda. But the Committee knows that water quantity details are important for the health of Mono Lake and its tributary streams, and years of careful prodding can, and do, make positive change happen. We are proud to be able to say that the Los Angeles Aqueduct has been retrofitted to ensure that water exports are now measured accurately, and that it wouldn't have happened without the Mono Lake Committee.
This post was also published as an article in the Summer 2018 Mono Lake Newsletter (pages 5 and 18).