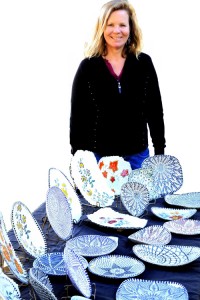 This post was written by Rosanne Catron, 2010 Information Center & Bookstore Manager.
There are so many talented artists in the Eastern Sierra and beyond. I love seeing all of the inventive, up-cycled, recycled, and one-of-a-kind work on the internet and at craft fairs. Dana Morton's pottery is unique, beautiful, and uses linens and other materials that would otherwise be thrown away or forgotten. Here is a bit about Dana, in her own words:
Tell us about yourself.
I moved from Orange County, Southern California to Yosemite the day after I turned 18. It had been my plan ever since I first visited the park as a child with my family. I worked an entire year there and was able to enjoy all four seasons in the park. While living in the park I often visited Lee Vining along with exploring the Mono Basin.
After that I moved to Tuolumne County to attend Columbia College. The main emphasis of my education is based on Early Childhood Education, Spanish and, of course, ceramics. I'm currently teaching ceramic workshops at Mt. Oak Charter School.
I have lived in Tuolumne County for over 30 years and could not ever bring myself back to big city living.
My husband and I never tire of mountain biking, golfing, fishing or any other activity that gets us outside enjoying this beautiful area.
What goes into making one of your dishes?
The first step is to choose a textile from my collection. I roll out a slab of clay with a heavy marble rolling pin and lay the textile down flat then roll the slab over it. I then take another textile and lay it over the top and roll over it so the clay is sandwiched in between the two textiles. I remove the slab and cut out the shape I want the dish to be. Using a bowl as a mold to help contour the piece I then create a textured feature around the edges to frame the pattern. I use an antique dental tool that I purchased at a yard sale over 20 years ago to frame each dish. I consider this my signature marking.
After the dish has dried it gets fired and goes into the staining phase. Each dish is covered in stain and then I wipe it off revealing the beautiful pattern underneath against the white clay body. Staining is my favorite part of the process. The embroidered pieces that have detailed scenes are hand-painted with colored glazes. Next comes the clear glaze. Every dish receives three coats and is fired one more time.
Why do you use recycled linens to create your designs?
I started with the textiles I had inherited from my own grandmothers. We were getting married and needed wedding favors so I thought it would be a touching way for them to help me even though they had passed on.
I then started searching yard sales, thrift shops and flea markets hunting them down. Many of the textiles I use are damaged and worthless to anyone else but me. I love the idea of preserving them in clay while breathing new life into an old art form. Along with using old textiles, virtually all of the bowls and other materials I use have been bought on the secondary market, which potentially saved them from going to a landfill.
Where is your favorite place in the Mono Basin?
If there were anywhere on the earth where one could get an idea of what it's like to be on the moon I think it would be the Mono Basin. I especially enjoy the phenomena of the tufa towers, they look like something I made with silly sand as a child. We recently visited the south shore tufas. The view was spectacular in a very mystical, magical way. The panorama is constantly changing as the sun moves overhead.
Anything else you want to add?
I'm very happy to be doing what I love and helping out such a worthy cause at the same time. I have many happy memories of visiting Lee Vining, June Lake, and living and working in Tuolumne Meadows. Since Mono Lake and the surrounding area are so close to my heart, being given the opportunity to have my work in your gift shop has very special meaning to me.
To see Dana Morton's work visit the Mono Lake Committee Information Center & Bookstore next time you are in Lee Vining, or visit her website.