This post was written by Rosanne Catron, 2010 Information Center & Bookstore Manager.
The Mono Lake Committee work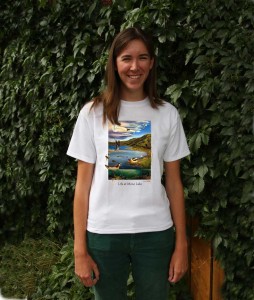 s hard to carry interesting, educational, and eco-friendly books and merchandise. We also love to work with artists to create unique, one-of-a-kind T-shirts, cards, and other gifts. One of these talented artists is Logan Parsons, who painted an incredible mural in our store depicting Mono Lake's teeming life. Logan's mural is now on a T-shirt and a greeting card as well, both available online and in the Committee store. Here is a bit about Logan, in her own words:
Tell us about yourself.
I was born and raised in Pacific Grove, California, and every year since I was little my family visited the Eastern Sierra to camp during summer vacation. This was how I became connected with Mono Lake. In high school I found I had a talent for drawing and painting realistically, but at the same time I loved science and learning about the natural world. Wondering how I would ever combine my seemingly opposing interests, I stumbled upon the field of science illustration and realized it was a perfect fit. I received my bachelor's degree in Environmental Science from Western Washington University and then continued on to obtain a graduate certificate in Science Illustration from UC Santa Cruz Extension. After completing internships at the Carnegie Museum of Natural History and Scientific American magazine I started freelancing, and have been doing illustration part-time ever since. I jump at any chance to explain the world around me in elegant visual terms.
Who are some artists that you admire?
I absolutely love John Dawson and Larry Duke's work. John Dawson did the "Nature of America" stamp series for the US Postal Service. Larry Duke has done ecosystem posters for the Monterey Bay Aquarium and has an incredible ability to combine scratchboard and color.
Tell us about the process of creating one of your finished pieces.
First, I try and sketch my subject from life. Unfortunately, illustrators often don't have the subject available in front of them, and must use photos and other references instead. From my sketches and references I come up with a concept for the illustration, and refine using pencil. Sometimes I scan my sketches and use Photoshop to re-size the image and make changes. After I have finalized my drawing I transfer it to paper (or whatever surface I am using) and start adding color and definition. What I think people don't realize about illustration versus fine art is that illustration is always trying to convey an idea visually, so accuracy often is very important. Techniques thought of as "cheating" (for example, tracing or using photos) are sometimes necessary, and accepted, in illustration.
Where is your favorite place in the Mono Basin?
Black Point! There is something very ethereal about that place, especially in the evening. I could sit out there for days and just listen to the silence.
What inspires you to draw here in the Mono Basin and elsewhere?
The large expanses of sky, the mountains that go on forever, the fact that everything I see here is incredibly beautiful and has endless detail … I wish I had a thousand lifetimes to try and capture this place on paper.
Check out Logan's website to see her portfolio. She will also be accepting commissions this fall.