Mark Arax's new book The Dreamt Land is making literary, political, and social waves, and our friends at Bay.org are hosting a lecture and Q&A with the author! A group of Mono Lake Committee friends and members will be there, and we'd love to see you for this evening of lively conversation. Mono Lakers at the event include Greg Reis, Information & Restoration Specialist; Anna Christensen, Philanthropy Director; Martha Davis, Mono Lake Committee Board Member; and Peter Vorster, expert hydrologist and hydrogeographer.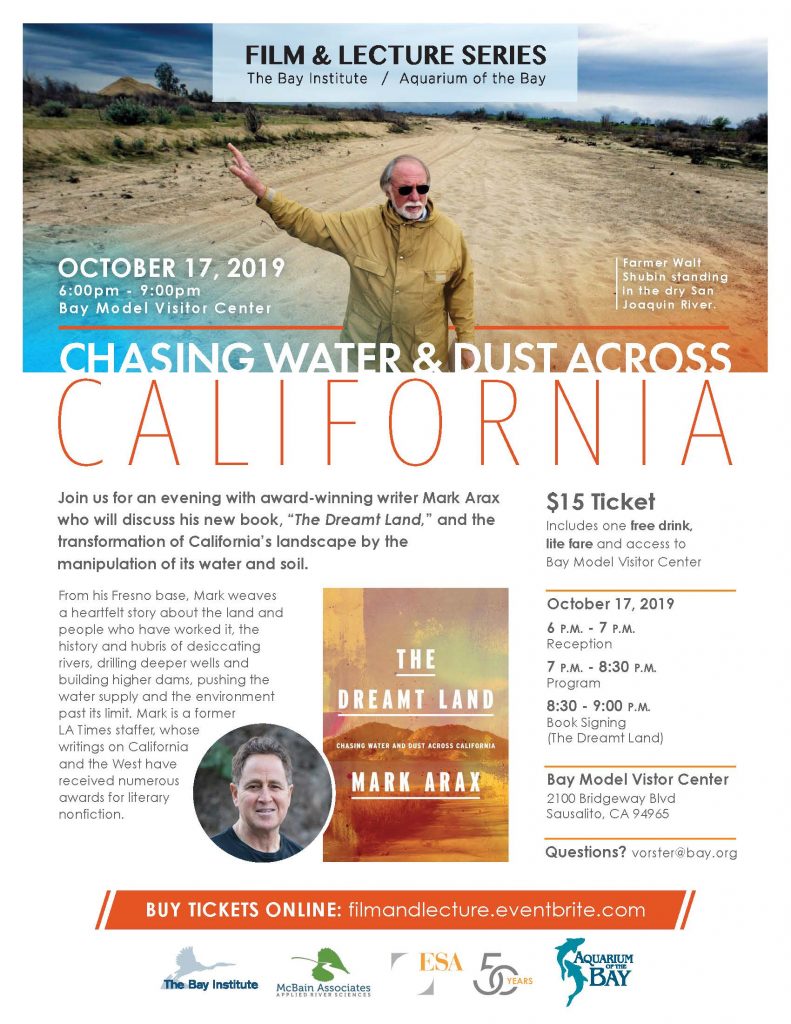 Event details:
Thursday, October 17, 2019: reception from 6:00–7:00pm, program from 7:00–8:30pm, book signing from 8:30–9:00pm
$15 includes one free drink, lite fare, and access to the Bay Model Visitor Center (A $40 ticket gets you the book too.)
Former Natural Resources Defense Council senior scientist and widow of the late Mark Reisner (Cadillac Desert), Lawrie Mott, will introduce Mark Arax.
Once you have registered online for the event, drop us an email and let us know you are coming! Since Bay.org is hosting the event, we will do something to keep an eye out for Mono Lake Committee registrants that evening so we can all say hello and connect.
About the book:
Mark Arax is an author and journalist whose writings on California and the West have received numerous awards for literary nonfiction. A former staffer at the Los Angeles Times, his work has appeared in The New York Times and the California Sunday Magazine. The Dreamt Land follows Arax on a heartfelt, water-centered trip through California. The book blends reporting, memoir (he is a Central Valley native), and history to weave a heartfelt story about the land and the people who have worked it, the history and hubris of desiccating rivers, drilling deeper wells and building higher dams, pushing the water supply and the environment past its limit.
Of the book, Mono Lake Committee Information & Restoration Specialist Greg Reis says, "I have learned more from this book about California water and history than I have from almost any book since Cadillac Desert."
Can't make the event? You can purchase the book online from the Mono Lake Committee Bookstore.