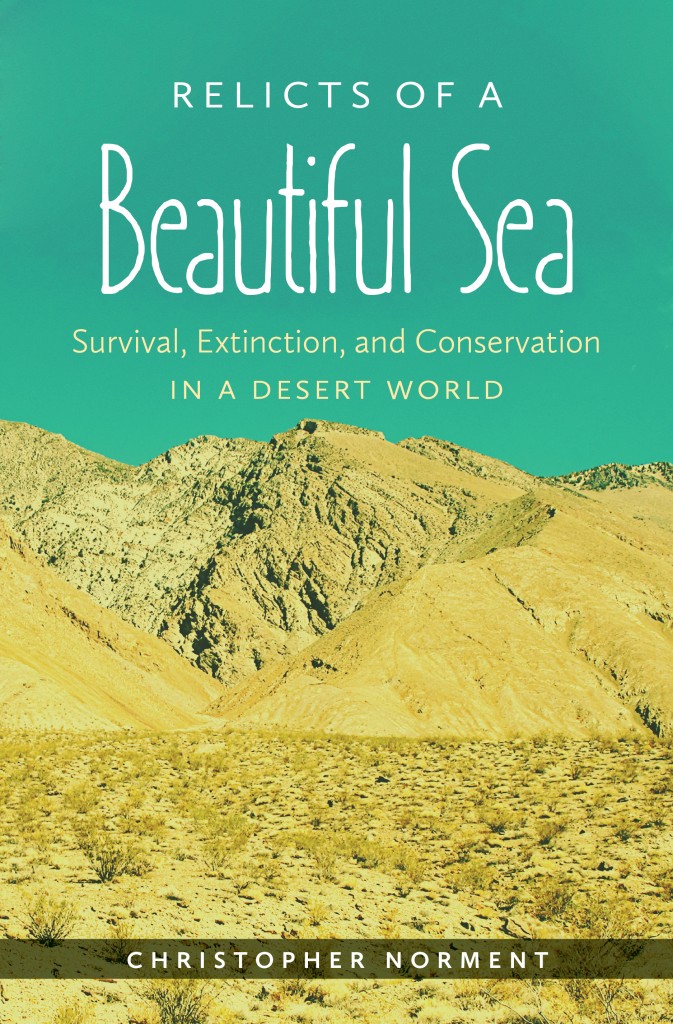 This post was written by Barbara Ball, 2014 Information Center & Bookstore Manager.
The Inyo Mountain slender salamander is found in just five locations (all in the Inyo Mountains) and has been classified as endangered since 1996. The Devil's Hole pupfish only lives in Devil's Hole in the Amargosa Valley—a body of water smaller than your bedroom and with water averaging 93 degrees Fahrenheit. These species have adapted and descended from ancestors living in the Great Basin when it was an enormous sea.
Conservation biologist Christopher Norment's talk and book signing at the Mono Lake Committee on October 15 brought wonder, understanding, and a new appreciation for life in its many forms. Norment's book, Relicts of a Beautiful Sea: Survival, Extinction and Conservation in a Desert World, looks at the Great Basin and the sea it once was. A review by T. DeLene Beeland, author of The Secret World of Red Wolves, states, "This is a unique natural history story, authored by a working scientist who handily imparts facts and details while infusing the pages with a personal and emotional quality rarely seen in popular writings by scientists. Its playful contrast of hard realities, artistic impressions, and personal feelings sets it well apart from other books in the field."
Looking at the Inyo Mountain slender salamander, the black toad, and other creatures that have adapted and survived, Norment makes a plea for the conservation of all species, not just those who benefit humans through providing food, performing a task like water purification, or having medical value. Norment compares the perilous lives of these species with the plight of each of us as we face challenges, isolation, and uncertainty in our own lives.
Are you looking to deepen your understanding of and connection with the desert west? Does someone in your life relish developing new understanding of this rare and beautiful land? Relicts of a Beautiful Sea can be purchased in the Mono Lake Committee bookstore in Lee Vining or online.
May we cherish all species.