While the Information Center & Bookstore is closed, we thought you might enjoy an update on how the floor refinishing is going.
The purpose of refinishing our floor is both aesthetic and functional. Deep grooves and worn areas were appearing and worsening, which created an eyesore that would have eventually become irreparable, permanently damaging the historic floor if not addressed.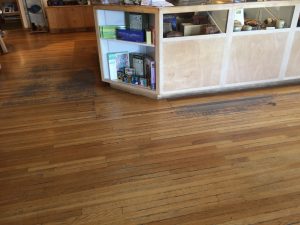 Naturally, the first step towards restoring our floor was removing all of our displays shelving and merchandise. A big thanks is in order for the awesome Mono Lake Committee staff who helped me relocate our merchandise and shelves to the theater and gallery for storage.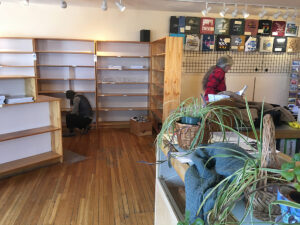 Once everything was removed from the store the sanding began. Local contractor Justin Long has been working for the past week to sand away the old varnish and damaged layers of wood to reveal the lovely wood just beneath the surface.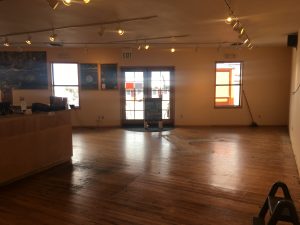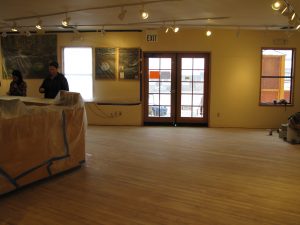 This coming weekend the floors will be coated in three layers of durable polyurethane finish and allowed to fully dry. After that the baseboards will be installed, and then we'll move everything back into the bookstore. We expect the Information Center & Bookstore to reopen on Thursday, March 14th at 9:00am.
We hope you'll stop in to see us and our freshly refinished floor, and we thank you for your patience while we've been closed. Between now and the 14th, feel free to call us at (760) 647-6595 or visit our back office for visitor information or an update on Mono Lake.