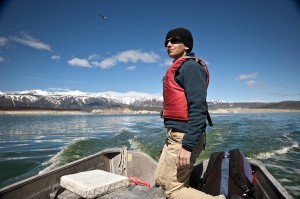 This post was written by Russ Taylor, 2011 Canoe Coordinator.
Each spring the Mono Lake Committee assists PRBO Conservation Science in doing a California Gull nest count on Mono Lake's islands. PRBO, whose mission is to conserve birds and other wildlife, has been monitoring the population size and reproductive success of California Gull (Larus californicus) at Mono Lake since 1983.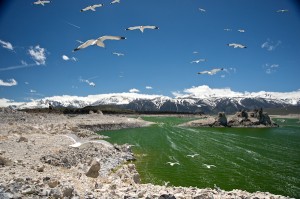 Monitoring the Mono Lake ecosystem is of special interest to biologists and to public agencies charged with protecting the lake's valuable natural and scenic resources. Court-ordered protection of the Mono Lake ecosystem will allow the lake's surface elevation to rise to 6,392 feet above sea level and because of this there is a continuing need to monitor the lake's resources, including nesting gulls, to document their response to the changing conditions.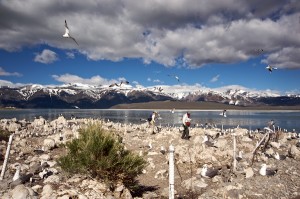 This year's count was challenging due to the extremely windy conditions in the Mono Basin this spring. The crew was windbound on one of the islands for most of a day until there was just enough respite to make it back to the mainland. The PRBO crew was able to return on a subsequent visit to finish this year's count.
The California Gull population often reacts dramatically to Mono Lake's varying conditions. This year the population size is very low—tied with 1998 as the lowest population size ever recorded in our 29 years of research. The gulls do poorly in years with cold springs and delayed/reduced brine shrimp, and this year was no exception. We will continue our diligent monitoring of the population by measuring reproductive success (chick production) later in the summer.
The islands are closed to the public from April 1st through August 1st in order to ensure the safety of the breeding birds. After August 1st the islands are open to experienced boaters. If you do plan a trip please check for wind and weather conditions. The lake can be extremely hazardous and a fair number of experienced boaters have met with fatalities on the lake.