It wasn't long ago when Mono Lake's unique alkali flies made a splash in the news, and today another iconic Mono Basin animal is making headlines on Science Friday: the California Gull. Beloved by some and unpopular with others, the California Gull is a bird that is sure to generate a reaction—whether it's of awe of their seasonal migration to inland salt lakes, like Mono, or of irritation because a clever gull once stole your ice cream cone.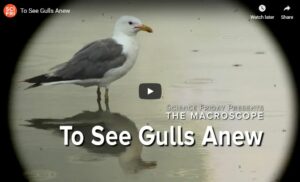 Regardless of how you feel about California Gulls, Mono Lake provides a critical nesting habitat for these birds as well as an abundant natural food supply of brine shrimp and alkali flies. In the video posted today on Science Friday's website, Kristie Nelson, Mono Lake Gull Project manager for Point Blue Conservation Science, discusses her research on this important population of birds at Mono Lake, numbering in the tens of thousands—one of the largest colonies of California Gulls in the world. I hope this video gives you a newfound appreciation for the gulls and Mono Lake.
Top photo courtesy of Point Blue Conservation Science.