Each spring tens of thousands of California Gulls migrate inland to their nesting grounds on Mono Lake's islets. Because of the lake's current low level, the landbridge to the islets is once again becoming exposed, which increases the threat of coyote predation on the gull colony.
With February snow surveys and closely-monitored lake elevation observations and data in hand, the Mono Lake Committee is forecasting that Mono Lake's elevation will hover around 6380 feet above sea level during this year's nesting season. The 6380-foot elevation figure is significant because it has been identified by California Gull researchers as a conservative "lowest lake elevation" that effectively protects the gulls from hungry coyotes that could cross the exposed landbridge.
In 2017 the Committee successfully installed a mile-long temporary electrified gull protection fence because Mono Lake dropped below 6380 feet.
This year, after consultation among Committee staff, California Gull biologists from Point Blue Conservation Science, and California State Parks staff, it was decided that the gull protection fence deployment will remain on standby. Instead, a new coyote activity monitoring system of wildlife cameras and regular surveys on the landbridge is being established to ensure the gulls remain safe on their nesting islets.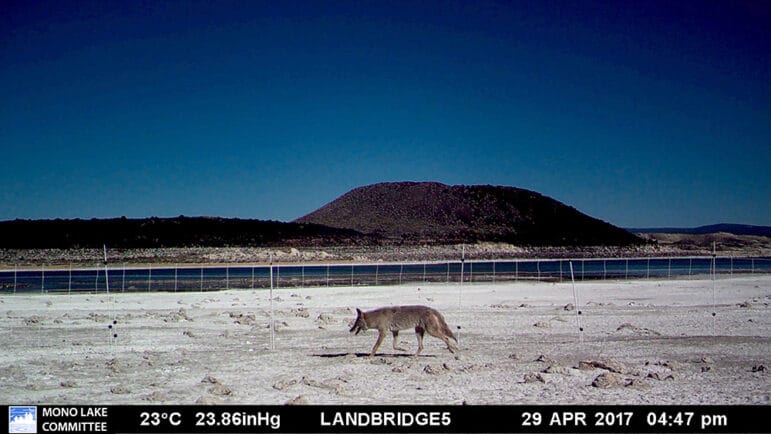 While the Committee feels confident that Mono Lake will maintain a lake level high enough to keep nesting gulls and chicks safe from coyotes this year, the monitoring is essential. Motion detection wildlife cameras that wirelessly transmit images have been positioned where coyotes have historically accessed the islets at lower lake levels. If, during the nesting season, new information about coyote behavior causes concern, we are prepared to quickly mobilize—with permits complete, the fence route mapped, and the equipment needed for the specialized installation at the ready.
Raising Mono Lake's level is the best way to protect nesting California Gulls from coyotes. But until Mono Lake reaches its healthy management level of 6392 feet, dry years may drop the lake to levels that require this type of significant intervention. The Committee will continue to coordinate and collaborate with management agencies and California Gull scientists to make sure we are prepared to act when needed to protect the gulls and preserve this important nesting habitat.
This post was also published as an article in the Winter & Spring 2022 Mono Lake Newsletter. Top photo by Geoff McQuilkin.