This post was written by Morgan, 2009 Project Specialist.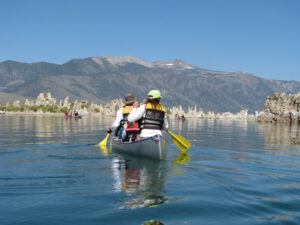 Are you concerned about the effects of climate change in California's Eastern Sierra? This is your chance to participate in the 350.org International Day of Climate Action!
On Saturday, October 24, 2009 the Mono Lake Committee is participating in this international grassroots campaign dedicated to creating an equitable global climate treaty that lowers carbon dioxide below 350 parts per million.  350 is the number that leading scientists including Dr. James Hansen at NASA, say is the safe upper limit for carbon dioxide.  Although current levels are already at 390, if we act now we will be able to reverse course, develop a clean energy economy, and prevent serious, long-term damage.
Six weeks from now in December, governments will be convening in Copenhagen, Denmark, for the United Nations Climate Change Conference, in order to create a new climate treaty. The International Day of Climate Action on October 24, is the best chance the global public has to influence the treaty before negotiating positions solidify.  On October 24 communities will gather at thousands of places around the world—from the Taj Mahal to the Great Barrier Reef to Mono Lake—to draw attention to the need for a dramatic international agreement to reduce carbon emissions and set us on a rapid path to 350.  Over 2136 events have been organized for October 24 in over 150 countries.
Here in Lee Vining we're planning a special event on October 24 as part of the International Day of Action called Canoe for the Climate at Mono Lake.  If you live near Mono Lake, we'd love to have you join us, but if you happen to live further away, please consider this your personal invitation to go to 350.org to find a similar event happening near you, or to start your own.
Here are the details for our event, we hope to see you there!
Canoe for the Climate at Mono Lake
On Saturday, October 24, 2009 at 9am, meet at the Mono Lake Committee, located on Hwy 395 in Lee Vining, California.  Bring your family, friends, and any canoes or kayaks you have.  We'll carpool down to Navy Beach together and, weather permitting, get out on the water to take a picture of our boats spelling out the number '350' on Mono Lake in front of the Sierra Nevada mountain range.
Please let us know if you'll be attending Canoe for the Climate, either by signing up on 350.org or by contacting the Mono Lake Committee directly at (760) 647-6595 or i…@monolake.org. Please dress warmly, bring plenty of water and sun protection, and be prepared to get your feet wet when launching the boats.  Learn more and sign up to attend at 350.org.