This post was written by Morgan, 2010 Project Specialist.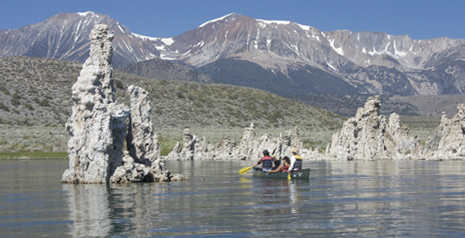 Imagine gliding through groves of tufa towers as nearby California Gulls dine on brine shrimp and alkali flies. Summer canoe tours on Mono Lake offer a fun, family-friendly way to experience Mono Lake up close.
We'll investigate Mono Lake's unusual natural history, from multitudes of brine shrimp found nowhere else on earth, to scuba-diving alkali flies and bubbling tufa springs. Our knowledgeable canoe guides will also share the inspiring story of ongoing efforts to protect this remarkable lake. No previous canoe experience is necessary.
Call the Mono Lake Committee at (760) 647-6595 to make your reservation today!  The one-hour tours run every Saturday and Sunday morning at 8:00, 9:30, and 11:00am from June 26 through September 5. The canoe tours cost $22 per person and advance reservations are required.