Runoff from last winter's record snowpack has allowed Walker Lake to rise 15 feet so far this year. While there is still a long way to go before restoration of the lake's native fishery can begin, it's time to celebrate!
On Saturday, September 23 the Walker Lake Rehydration Celebration will take place at Monument Beach, about 12 miles north of Hawthorne, Nevada.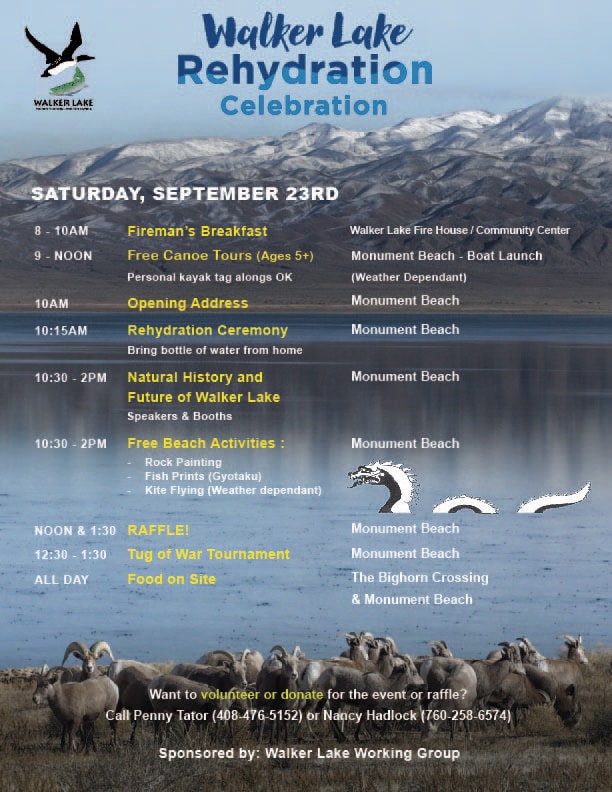 Schedule of events:
8:00-10:00am – Fireman's Breakfast at the Walker Lake Firehouse/Community Center
9:00am-noon – free canoe tours (ages 5+) at the Monument Beach boat launch (weather dependent)
10:00am – opening address at Monument Beach
10:15am – rehydration ceremony at Monument Beach
10:30am-2:00pm – Natural History and Future of Walker Lake speakers and booths at Monument Beach
10:30am-2:00pm – free beach activities (rock painting, gyotaku fish prints, kite flying at Monument Beach
noon and 1:30pm – raffle at Monument Beach
12:30-1:30pm – tug-of-war tournament at Monument Beach
all day – food on site at the Bighorn Crossing and Monument Beach
Interpretive talks and walks about Walker Lake's natural history and undecided future
Beach activities and a raffle with great prizes
Come check out the Great Basin's least known and most endangered terminal lake! The Mono Lake Committee will be bringing our canoes for the free canoe tours, and people are welcome to bring their own kayaks, canoes, and stand up paddleboards to join in the tour on the water. All activities are free except the food and the raffle.
This event is sponsored by the Walker Lake Working Group. Volunteers and donations for the event are welcome; please contact Penny Tator at (408) 476-5152 or Nancy Hadlock at (760) 258-6574 for more information.
Top photo courtesy of KRNV News.