Everyone is invited to stop by Hess Park in Lee Vining on Saturday, June 18 from 11:30am to 2:00pm to have lunch, catch up with friends, browse a few artists' and authors' new books, learn more about the Mono Basin Bird Chautauqua partners, and buy picnic lunches to support the Lee Vining High School booster club. Help improve both academic and extracurricular opportunities for the local high school while you eat a delicious lunch!
Lunch fundraiser menu for Lee Vining High School
The Lee Vining High School booster club will be serving your choice of a garden burger, sirloin burger, or grilled chicken breast with either cheddar cheese or goat cheese and pesto (all can be ordered without cheese). Burgers served with whole wheat bun, lettuce, onion, and tomatoes. Lunch includes a green salad, slice of watermelon, brownie, and drink. $15 per meal; please bring cash. All proceeds benefit Lee Vining High School.
This year's live musical guest: Bodie 601
Deriving their name from nearby Bodie State Historic Park, Bodie 601 is a nearly decade-old band having an amazing time playing to the enthusiastic music lovers on the Eastside. Having a sound that is best described as "folk-ish," the band combines traditional folk, bluegrass, and alternative music with an emphasis on rich vocal harmonies and surprising arrangements of songs that allow the band to swing from sweet, slow melodic numbers to barn-burning foot-stompers in the space of just one short set. The band has released two albums as a four piece: Fortune's Calling and Another Way. The band transitioned from a four-piece band to a trio in early 2022. With fiery fiddle soloing, solid guitar, and powerful rhythm from the bodhran (hand drum) and, always, those wonderful three-part vocals, this eclectic,acoustic-oriented band is climbing the mountain of the music scene here in the Eastern Sierra and loving it every step of the way.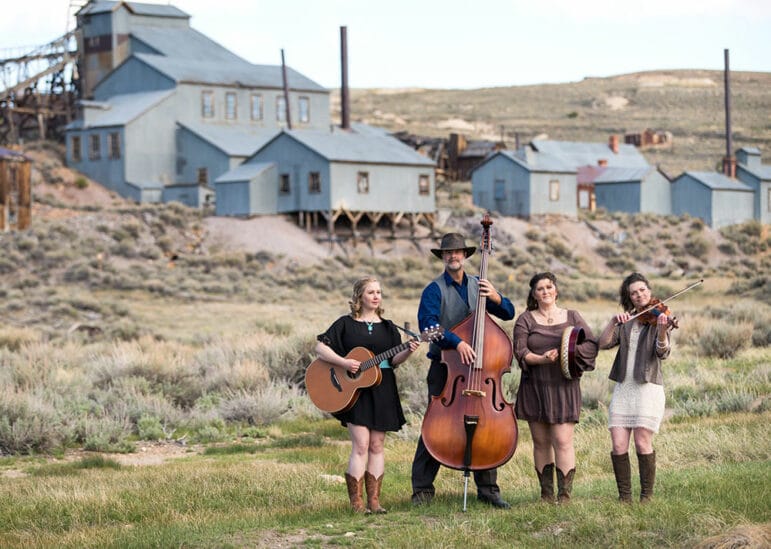 We hope to see you at Hess Park on Saturday, June 18, 11:30am–2:00pm!
Top photo by Robbie Di Paolo.