This post was written by Angie Glaser, 2013 Project Specialist.
On June 14–16 the Mono Basin Bird Chautauqua will land in the Eastern Sierra for the 12th consecutive year, bringing with it a record number of participants. Many of the more than 80 field trips, workshops, and presentations still have available space.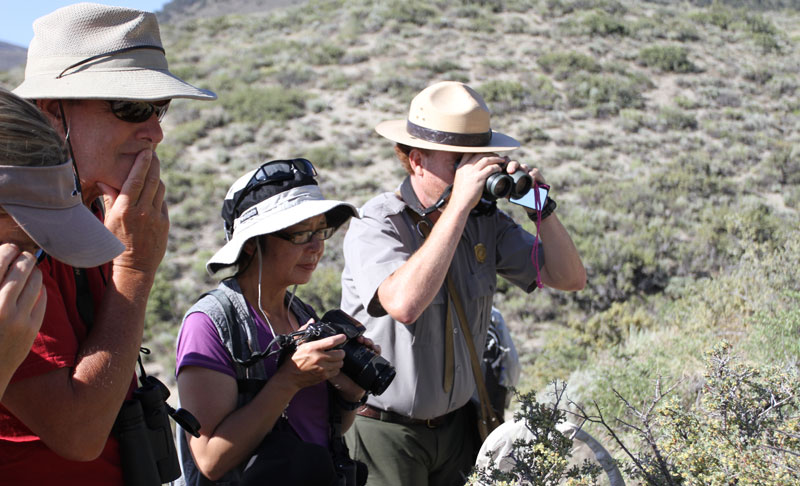 Trees, wildflowers, bugs and butterflies, writing, sketching birds, poetry, storytelling, photography and image editing, bowl and spoon crafting, birding, and kids' events are among those with openings. See below for the complete list.
As always, the festival will end with a picnic, free concert, and bird calling contest at Mono Lake County Park, featuring music by The Trespassers and a barbeque lunch for sale to benefit Lee Vining High School. The Bird Chautauqua takes place June 14–16, and is based in Lee Vining, California. For complete information or to register please visit the Bird Chautauqua website. We hope to see you there!
Programs that still have space:
THURSDAY
Scenic Area Visitor Center clean-up and work party
Crimson Wing: Mystery of the flamingos documentary
FRIDAY
Birding the Bridgeport Valley
A birder's take on bugs
Birding Lee Vining Canyon
Once upon a twig: Stories of Great Basin trees
Fire by friction/bowl and primitive spoon "burning"
The writer's flight
Introduction to butterfly watching
Birding for little fledglings
The impact of wind farms on birds
Burned forests and Black-backed Woodpeckers in the Wild West
The heritage of bird language and its influence on human nature
The Names of Birds: poetry reading
Under a waxing moon: Campfire stories
SATURDAY
Photo walk with Bob Steele
Kayaking the south shore of Mono Lake
Writing at the edge
Introduction to drawing birds
A meeting with Dr. Steller
Biomimicry: Copying nature's inventions
The sustainable self: Beyond our carbon footprint
Introduction to image editing
In remembrance of Rich Stallcup
Nature stories
Artful inquiry: Creative vision in the practice of natural history
Remembering Rich Stallcup reception
Thinking like a naturalist
Enchanted evening: Stories and stars on the lakeshore
SUNDAY
Birding Deadman Creek
Learning the language of birds
Holes in heaven
Field sketching birds
Birding mixed habitats
Fields' guide to Osprey
Picnic at County Park