The Mono Lake Committee's Outreach Staff, along with the Outdoor Experiences Program Manager, are gathering in the Los Angeles area to start a two-week visit to local schools and community based organizations in preparation for the 2011 Outdoor Experiences season here at Mono Lake.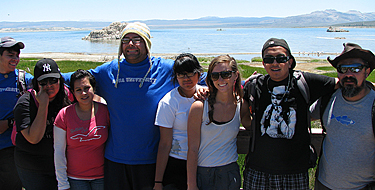 Every year, the OE staff visits these groups, presents a slide show, and does a "question and answer" period for the groups so that leaders, teachers, participants, and students can get a general idea of what to expect when they visit the Mono Lake area during the summertime.
Although the OE program has a core group of participant schools and organizations, we are always looking to offer our presentation to new groups and schools. This fits very nicely with the plan to grow the OE program and to develop the recently long-term leased Cain Ranch, our base of operations in the Mono Basin.
Currently the OE program gets around 21 groups and 250 students per season; our goal is to increase the number of groups to at least 25 and a minimum of 300 students per season.
If you are interested in having an outreach presentation at your local school and/or community group please email Santiago Escruceria, OE program Manager. You can also contact Herley Jim Bowling or Jennifer Odum, Southern California Outreach Coordinators.
We are looking forward to hearing from you soon, and seeing our friends in LA!