This post was written by Jessica Schneider, 2015-2020 Office Director, 2011-2013 Information Center & Bookstore Manager, and 2010 Information Center & Bookstore Assistant.
Due to heavy winds forecast throughout the day, the first step of the renovations to the front of the Mono Lake Committee's building will be postponed until tomorrow, April 22nd.
The Information Center & Bookstore will still be closed April 22nd, and will also be closed Monday, April 25th to continue the project. We will be open 9:00am to 5:00pm this weekend, April 23 and 24.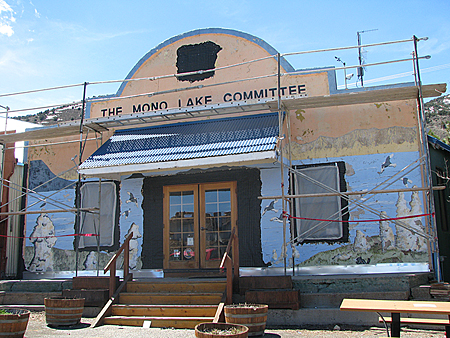 Stay tuned to the Mono-logue for updates on closures due to inclement weather. The walnut-blasting process can not be done in high winds, and the first step of the stucco application requires overnight temperatures over 32 degrees. Because we are located in the Eastern Sierra, inclement weather is likely to occur, and therefore requires our flexibility.
We apologize for any inconvenience this may cause, and we encourage visitors to check weather and road conditions before traveling to this area.