This post was written by Erica Tucker, 2013 Project Specialist.
From the 2013 Spring & Summer Mono Lake Newsletter: Many, many Eared Grebes pass through the Mono Basin during their fall migration. Because the grebes use Mono Lake as a critical stopover, it's important to know just how many stop here each year. The process of finding out involves dedicated and professional volunteers, and the Mono Lake Committee assists researchers by coordinating the annual aerial photo survey.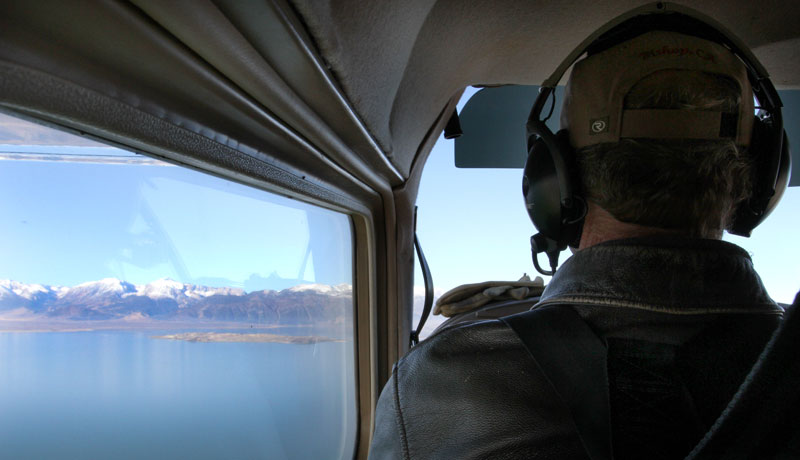 On October 15, 2012, volunteer LightHawk pilot Geoff Pope and photographer Stephen Ingram spent the morning flying over and photographing Mono Lake's surface and the birds upon it. The final results from researcher Sean Boyd of the Pacific Wildlife Research Centre in British Columbia show that Mono Lake hosted about one million Eared Grebes. That's roughly 150,000 more than in 2011.
Boyd calculates the number of grebes by taking the initial "grebe dot" count from the photos, converting that number into a density, adjusting it for scale, and using the current lake surface area to extrapolate the final number. The annual Eared Grebe survey has happened for most of the past 20 years, and you can see the fluctuations over time on the Mono Basin Clearinghouse website.
The Committee is dedicated to promoting scientific research at Mono Lake, and has been taking an even greater hands-on role with the Eared Grebe survey. The Committee will be training a volunteer this year to count the grebes in the photos to assist Boyd. If you are interested in this or other volunteer opportunities, please contact Rose Catron at (760) 647-6595.