On the wall at Mono Lake Committee headquarters, quietly perched above the fray, it reads, "People protecting Mono Lake for future generations." There are many protectors—birders, scientists, students, lawyers … a bright star in that constellation, Terrence Finney passed away in November 2018, but his legacy will forever shine at Mono Lake.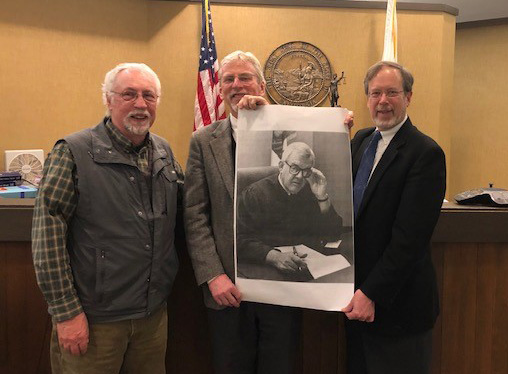 According to the El Dorado County Superior Court, in Judge Finney's 20 years of service, the Mono Lake case was "the biggest case of his career." It certainly was vital to the protection of Mono Lake and restoration of the tributary streams.
In 1989 Judge Finney's courtroom became the epicenter of the reversal of the Los Angeles Department of Water & Power practice of excessive water diversions from Mono Lake's tributaries—and the plummeting level of the lake itself. Judge Finney issued the injunction to halt diversions, mandated the formation of a restoration technical committee, and visited the dry creeks with court reporter and stenograph in tow—always with proper decorum and his sense of humor. He listened to experts, he understood the magnitude of the case before him, and he took deliberate, measured action.
In the end, six critical years in Judge Finney's courtroom produced required minimum flows for all four diverted streams, launched the restoration programs that continue today, and ensured that Mono Lake not fall into ecological collapse while waiting for the State Water Board's 1994 water rights decision. John Hart's Storm Over Mono reports the story in gripping detail, but to understand the significance of what Judge Finney did, walk from Lee Vining Creek down to Mono's shoreline to see his Mono Lake decisions living on.
This post was also published as an article in the Summer 2019 Mono Lake Newsletter (page 24).