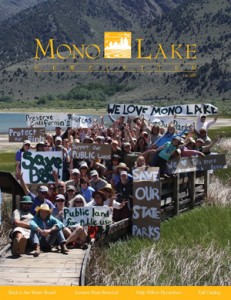 The Fall 2009 edition of the Mono Lake Newsletter is now available online and in color. Can you find yourself in the crowd on the cover? Want to know the status of Willow Flycatchers on Rush Creek? … see the interview with biologist Chris McCreedy on page 6. Did you know that Outdoor Experiences groups helped with invasive plant species removal all summer long? … see more on page 10.
Want to weigh-in on the upcoming renovations to the storefront? … see page 11 for how. Is 2010 the year you're finally going to take that winter photography seminar? … see page 17 to sign up. And don't miss the beloved fall catalog on page 18 … it's full of gift ideas that benefit Mono Lake and it's easier than ever to order online.
Mono Lake Committee members who have registered online get early access to the Newsletter, but the current issue is now available for everyone to read. Enjoy seeing all of the photos in color  in our nifty little online reader program as well—you don't have to download a thing. I recommend using the fullscreen option for easy viewing.
Enjoy!