This post was written by Gabrielle Renteria, 2015 Bookstore Assistant, 2016 Mono Lake Intern, 2016–2018 Project Specialist.
This week is the first week of fall, with fresh snow on the hills above town. The aspen leaves are beginning to change color, and most of our seasonal staff have headed back home or to back to school.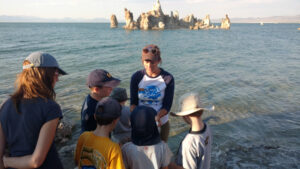 With all of these changes comes a revised tour schedule. Free walking tours at South Tufa are offered at 1:00pm on Saturdays and Sundays through October. If you can't make it to one of our weekly tours be sure to check out monolakemobile.org on your smartphone, where you'll find a self-guided tour of South Tufa that is accessible anytime.