This post was written by Edith Harris, 2013 Mono Lake Intern and 2014 & 2015 Outdoor Education Instructor.
Last Monday was the first Restoration Field Trip of the summer, and Mono Lake Committee staff members Erik Lyon and Max Henkels led a small but ardent troop of volunteers to Old Marina, where the crew spent the day removing invasive plants from the countryside. Kristie Nelson, a California Gull specialist, joined the group as well.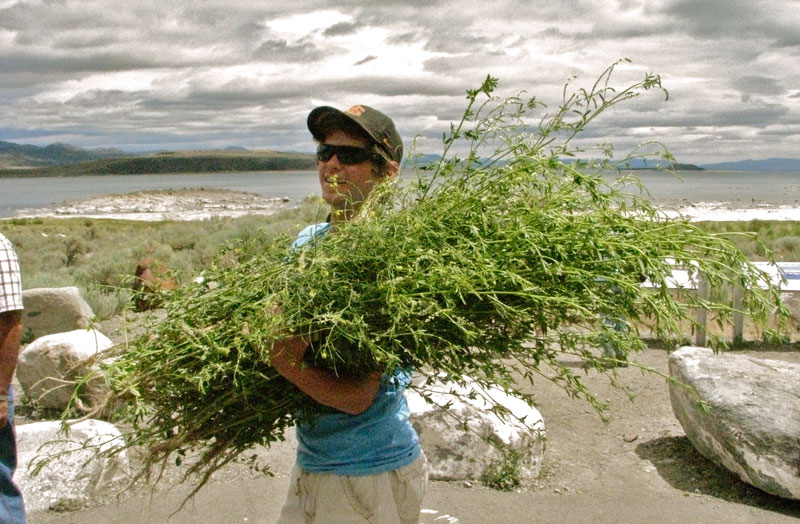 The array of volunteers, who had made their way to Mono Lake from around the world, met at the Committee and then carpooled to Old Marina, gloves and weed wrenches in tow, ready to spend a day eradicating problematic weeds that have been encroaching on Mono Lake's habitat. "Let's go get 'em!" one eager volunteer exclaimed.
The main ecological perpetrator that the volunteers uprooted is called white sweet clover. This invasive weed, whose long light green stems and little white flowers make it relatively good-looking (as far as weeds go), is considered a culprit because it is a biodiversity decreaser, which means that wherever it takes hold, the wide array of native plant life in the surrounding area must compete with its greedy and thirsty roots for water, and the overall health and variety of the landscape is compromised.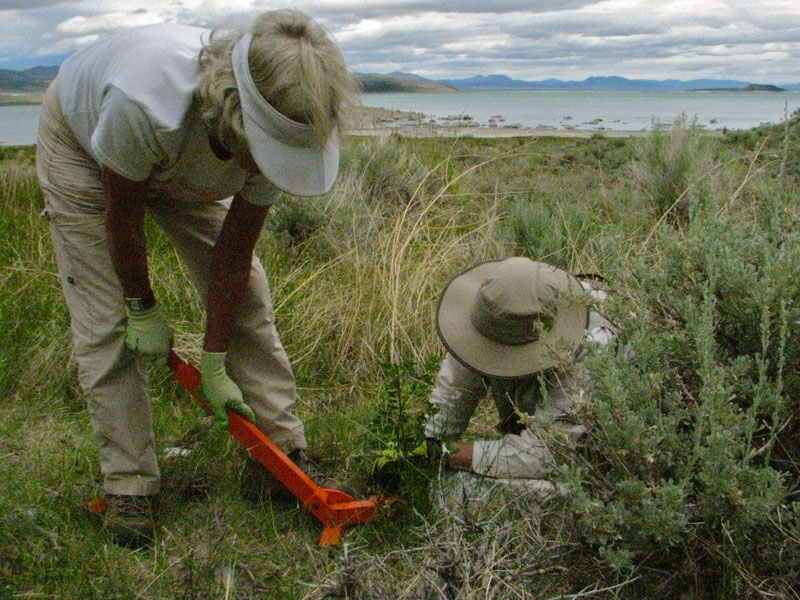 After a short introduction by Kristie, in which she discussed her involvement with the Committee and lent her spotting scope to volunteers to observe the bustling congregation of gulls and chicks just off of the Old Marina parking lot, the zealous group got to work, singing and joking as they tugged their way towards a healthier countryside. The enthusiasm of the group paid off—by the end of over six hours of prying and tugging sweet clover out of the alkaline soils it so stubbornly ensnares, the volunteers had collected over 400 pounds of it! According to one volunteer, "Once you get the technique right, it comes out just like butter!"
The next restoration day will be Friday, July 5. Hope to see you there!