This post was written by Erik Lyon, 2013 Project Specialist.
The government shutdown has been making news from Washington, D.C., but here in Lee Vining, the "gateway to Yosemite," the effects don't feel so far away. Starting today, "nonessential" government spending has been cut off, which means Yosemite National Park and National Forest lands here in the Eastern Sierra. Lee Vining is home to a number of National Park and Forest Service employees, and they are coming into work today to "wind down" their jobs for an indefinite amount of time.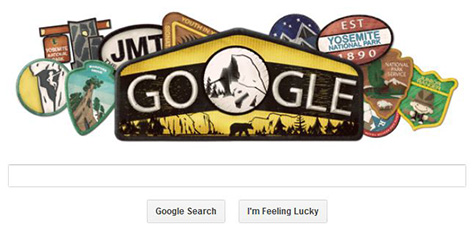 In a dispiriting coincidence, today also happens to be Yosemite's birthday. Many of us at the Mono Lake Committee were alerted to this fact when we opened the Google home page to search things like "government shutdown" and "Highway 120 closure," and saw this collage of historical Yosemite patches (above).
Since then, the day has been a whirlwind. In particular, reports of Highway 120 have been contradictory, causing great amounts of confusion among tourists. We are still wading through the information, but here is what we have found out so far:
Highway 120 through Yosemite will remain open. There was briefly some confusion among park staff in which employees at the gate were turning motorists away at the gate.
Yosemite National Park itself is closed. Although the road is open, it should be treated like any other highway. Stopping is not allowed except in the case of an emergency, and no services in the park are open.
Mono Lake and Bodie will remain open and accessible. As State Parks, Mono Lake and Bodie will remain unaffected by the government shutdown. One potential exception is the South Tufa area, which may be unstaffed. Remember to pay your entrance fee in the collection container!
At the Mono Lake Committee, we are seeing it affect our friends, family, and the economy of our whole town. We are hoping for a swift resolution to this crisis, and will give an update when possible.