Two work days in February at South Tufa and Navy Beach have helped clear the trails of stud piles (piles of horse manure) from the recent rapid and dramatic expansion of horse activity on the south shore of Mono Lake.
With high numbers of visitors during the recent unseasonably warm and dry weeks, Mono Lake Volunteers and staff from the US Forest Service, State Parks, and Mono Lake Committee have been working to keep the popular Mono Lake visitation areas accessible and enjoyable by clearing horse manure from the trails.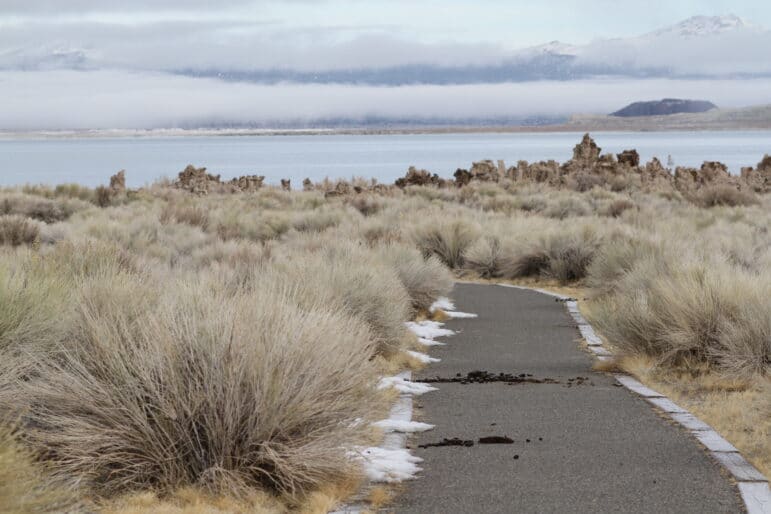 Increased impacts on places, habitats, and wildlife that people have been working for decades to protect and restore at Mono Lake have put a spotlight on the horse herd growth and range expansion into the Mono Basin. Horse activity is damaging delicate tufa towers and sensitive lakeshore wetland and spring habitats.
Wild horses, previously seen rarely and only in remote parts of the Mono Basin, can also pose a threat to visitor safety, especially if visitors attempt to interact with them.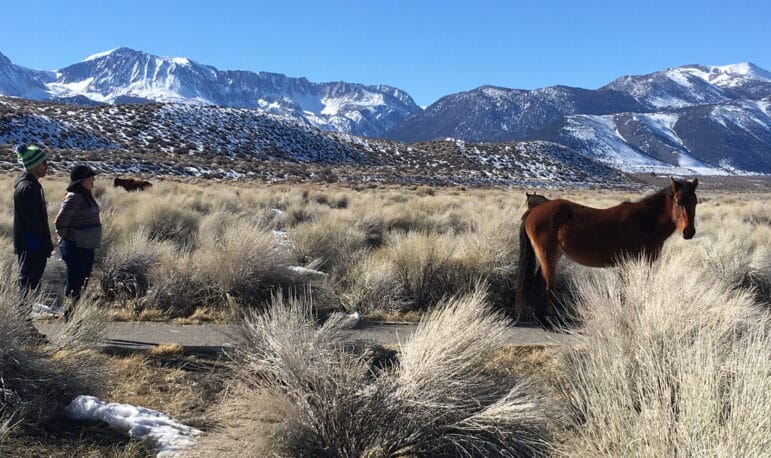 With the severity of the habitat damage and the possibility of movement of horses in the direction of Highway 395, management agencies are working to protect the resources at Mono Lake and the health and safety of horses and people.
This new development has generated serious concern for management agencies and organizations including California State Parks, the Lahontan Regional Water Quality Control Board, the Great Basin Unified Air Pollution Control District, the Bureau of Land Management, the Mono Lake Committee, and the Inyo National Forest, which is the lead agency managing these horses on National Forest System lands in the Mono Basin.
If you are interested in volunteering for future work days please contact Office Director Claire Landowski at (760) 647-6595 x120.
Top photo by Elin Ljung.