This post was written by Julia Runcie, 2010 Project Specialist.
Anyone taking a look at the water from County Park or the Old Marina boardwalk could tell you that there are a lot of birds on Mono Lake. Gulls, phalaropes, avocets, killdeer—the list goes on and on. But the exact numbers of these birds is not so easy to determine. In the case of the Eared Grebe (Podiceps nigricollis), an accurate count requires a small airplane, a digital camera, a calm day, and a lot of white plastic trash compactor bags.
Sean Boyd, a researcher with the Pacific Wildlife Research Center, has supervised aerial surveys for Eared Grebes on Mono Lake almost every fall since 1996. The totals he calculates, when combined with the results of surveys on the Great Salt Lake, approximate the Eared Grebe population of the entire North American continent.
On October 13 of this year, volunteer Lighthawk pilot Geoff Pope and photographer Rick Kattelmann spent the morning flying transects over Mono Lake, carefully photographing the surface of the lake at ten-second intervals. In order to determine the scale of the photos, Rick had to get a clear shot of a target located near the lakeshore. That was what brought Bartshé Miller, the Committee's education director, and myself to the shore at 7:30am equipped with armfuls of plastic bags. We battled wind and bumpy ground to set them up in three enormous X shapes that together formed a triangle measuring exactly 50 meters per side. From the air the scale is just visible, and there is little indication of the prickly sagebrush in which our tape measure kept getting tangled.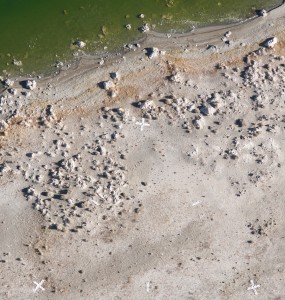 Once the scale was finally in place the pilot and photographer took over. Their efforts have been recorded onto a DVD, which will be sent to Sean Boyd for review. He will painstakingly count each tiny speck in the photos, convert these numbers to densities (#/km2) and, adjusting for scale, extrapolate from the transects to calculate the total abundance of Eared Grebes on the lake. The photo below, taken during the survey, shows what a grebe looks like from 1,200 feet up in the air.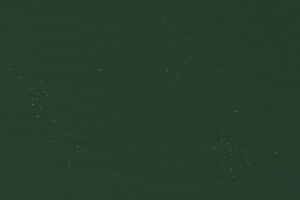 While the little gray dots in the photos may not inspire much enthusiasm, this research has resulted in a very exciting conclusion: according to Boyd and Joseph R. Jehl, Jr.'s 1998 report, Estimating the abundance of Eared Grebes (Podiceps nigricollis) on Mono Lake, California by aerial photography, counts reaching as high as two million birds have established that "Mono Lake is the most important fall staging site for Eared Grebes in North America" (Boyd & Jehl, 1998).