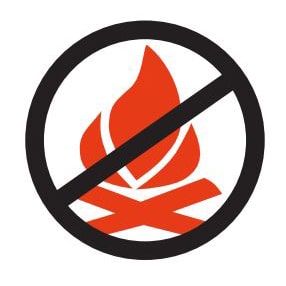 Due to the serious fire activity throughout California, the Inyo National Forest has issued Stage II fire restrictions. Other Mono County fire restrictions are also in effect. This means:
No campfires, wood fires, or charcoal fires
Campfires and charcoal grills are no longer allowed anywhere on public land, including campgrounds with designated fire rings.
Some stoves are allowed
Portable stoves or lanterns that use gas, jellied petroleum, or pressurized liquid fuel are allowed with a valid California Campfire Permit, which is required for the use of any portable stove, regardless of fire restriction level, in the state of California.
No smoking
Smoking is not allowed except within an enclosed vehicle or building, or while stopped in an area at least three feet in diameter that is barren or cleared of all flammable material.
No fireworks
As always, fireworks are prohibited in Mono County.
Be aware of where you park
Hot mufflers and catalytic converters can quickly ignite brush. Maintain your vehicle's brakes and tire pressure. Blowouts and scraping metal cause sparks. If you're towing, make sure nothing is dragging. Motorcycles and ATVs require an approved spark arrestor (so do chainsaws).
See all the current fire restrictions on Mono County's website.