This post was written by Sara Matthews, 2015 & 2016 Mono Lake Intern.
I was first introduced to former Mono Lake Committee intern, Randy Arnold, amid the excitement of the runway at the Trail Chic fundraiser back in the summer days of June. The Mono Lake Committee was taking the opportunity to honor Randy Arnold for his continued support of the Mono Lake Committee and his ongoing support of non-profits through his work at Barefoot Wine. I didn't quite know who the man radiating good nature and smiles was at the time, but luckily, in writing this piece I had the opportunity to find out.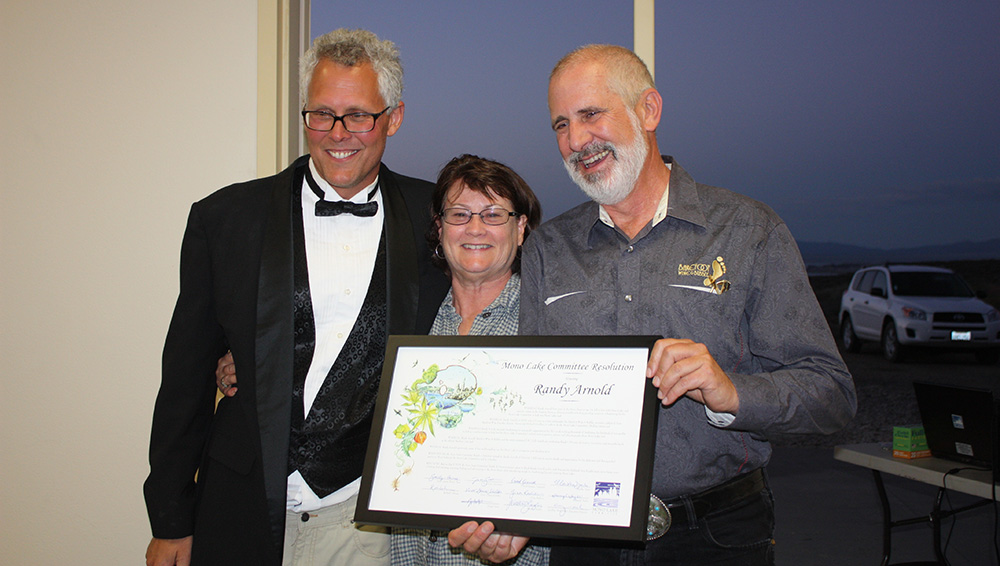 For 25 years, Randy has worked for Barefoot Wine and for most of that time he has also been a member of the Mono Lake Committee—a commitment spawned from his experiences as a youth. At 14 years old, he first laid eyes on Mono Lake on his way to a 4-H camp in Owens Valley and vowed that he would return often. Like many other Mono Lake Committee members, Randy has formed a long lasting and deep connection with the Mono Basin, returning throughout the years to visit and doing his part to protect this special place.
In 2003, Randy fulfilled a long time goal by making the unconventional choice to put his career of Sales and Marketing at Barefoot Wine on hold while he pursued an internship with the Mono Lake Committee. He took on the role of birding intern and moved into the Mono Lake Committee Field Station in Lee Vining with the rest of the seasonal employees. That summer, he embraced the opportunity to live in a place that he loves and reach out to others as an outdoor educator. Although there were a few challenges early on adjusting to the living with the young folks, Randy never lost sight of his reasons for being there.
Being a staff member of the Mono Lake Committee allowed Randy the many unique opportunities to interact with the Mono Basin, such as helping to conduct California Gull research out on Mono Lake's islands. "Corralling Gull chicks to be weighed was great fun," Randy recalls. However, even more rewarding were the many opportunities that he had to educate people on the environment. Bringing nature study to young people is a life goal of Randy's and he found the enthusiasm and appreciation of young people for the environment to be a wonderful thing to help foster.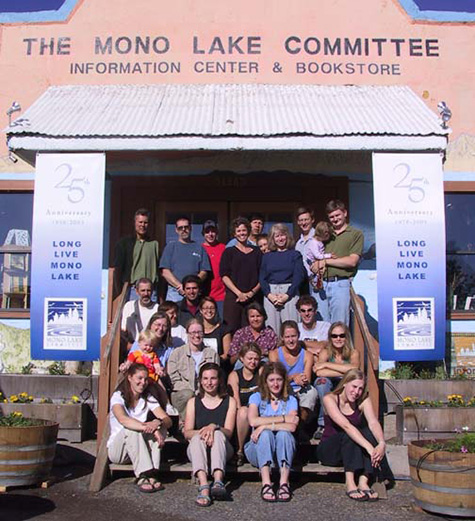 Along these lines, when asked what advice he has for current interns, Randy encouraged us to reach out to the community and let them know the great things that the Mono Lake Committee is doing. An adept businessman, Randy recognizes that work of the Mono Lake Committee and other partners has allowed the basin to retain it ecological and scenic values, which in turn has accounted for the thousands of people who visit to the Mono Basin. As Randy put it, "tourism IS the economy of the region." Education plays a huge role in this. The more people know about the Mono Basin the more likely they are to return, and in this way interpretive programs not only encourage people's curiosity about the natural world, but also have a long lasting economic impact.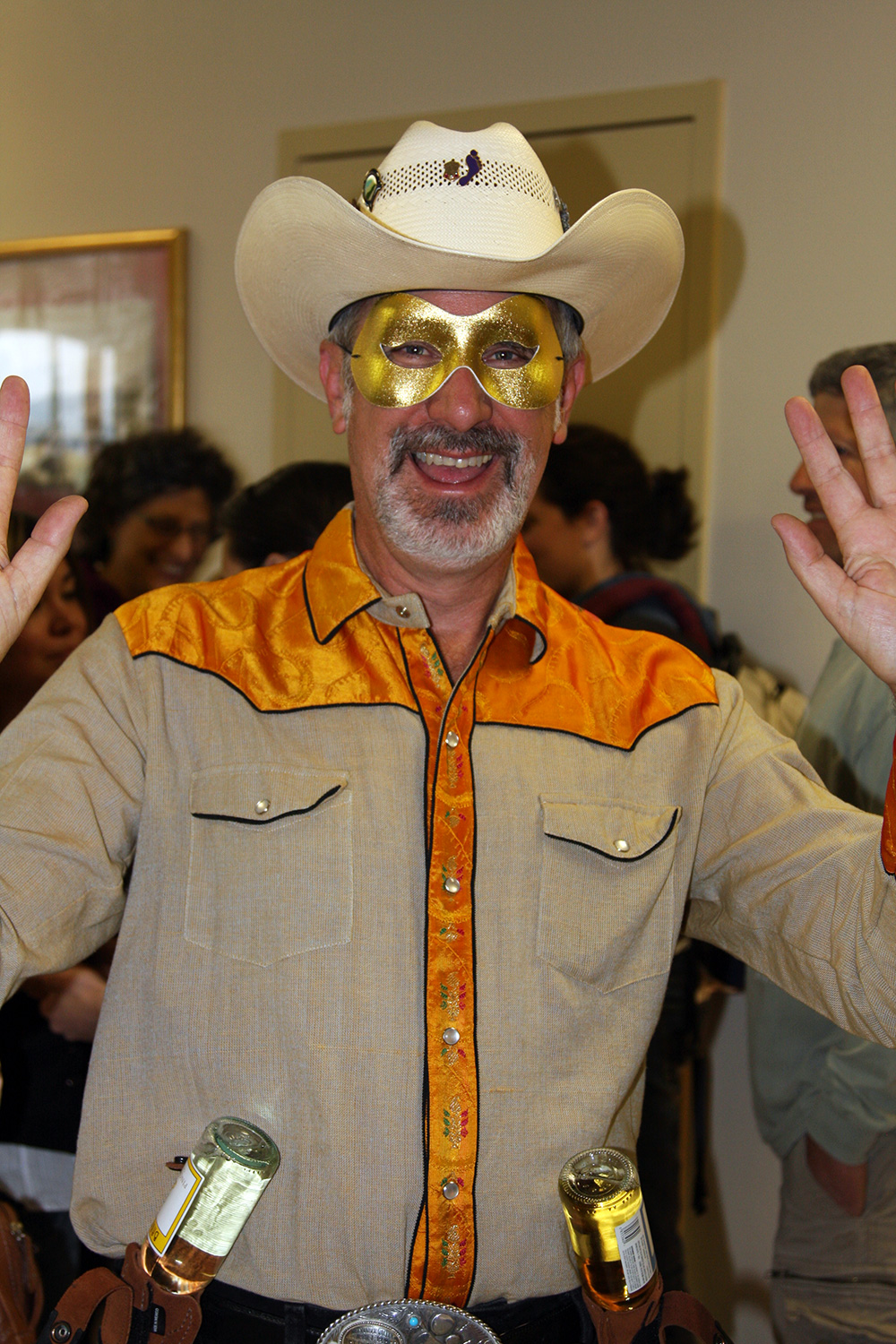 Randy's summer as an intern wasn't all work though—just like this year's crop of interns, he made the most of getting to live in this amazing place and explored the basin as much as possible. He also was able to make his mark on the community. His favorite memory from that summer was doing Gay Humor during a talent show that he organized. Though he was very nervous and didn't want to offend anyone, he found the audience to be very supportive. Bringing Gay Humor to the basin was a unique contribution that he was glad that he was able to achieve.
In addition to leaving his mark on the Mono Basin, Randy found that his time here has influenced him as well. Recently, in selecting people who have made an impression on them, Barefoot Wine named Sally Gaines "Sole of the Year" and her picture appeared on bottles of the Impression Red Blend. Inspired by Sally and the rest of the Mono Lake Committee, Randy continues to connect the winery to environmental non-profits through the sponsorship of events. The Barefoot Winery will support 3,000 benefits for non-profits in North America this year.
Looking into the future, Randy plans to continue to support the Mono Lake Committee by providing wine for a benefit in Lee Vining each year, alternating between the Defense Trust Weekend and Trail Chic. He is thrilled to be able to contribute to the success of Trail Chic which raises money to support the Outdoor Education Program. In this way, Randy is still able to continue his goal of bringing nature study to young people.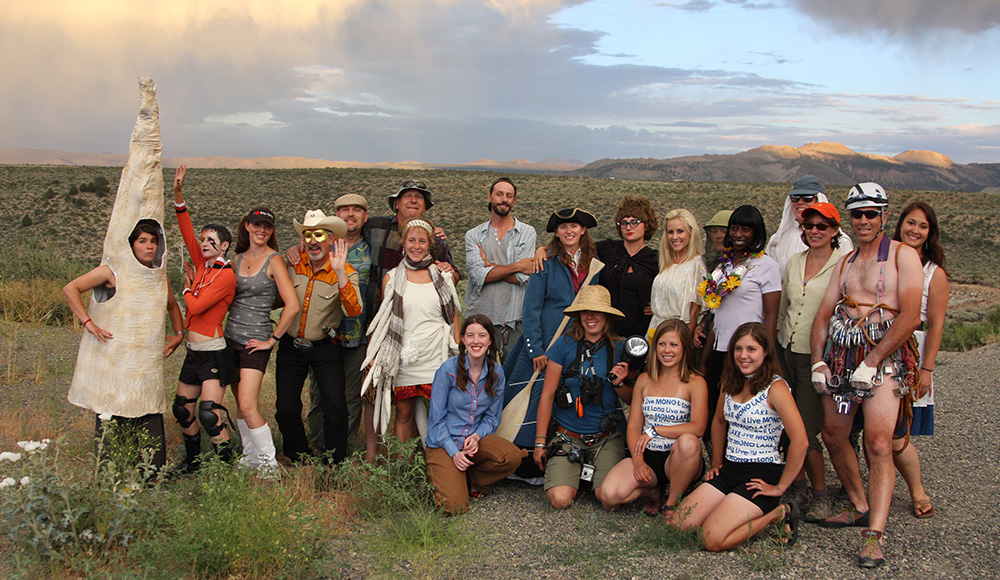 My final question for Randy was a personal one—what is your favorite spot in the Mono Basin? After some consideration, Randy replied with an answer and a story—of all of the wonders in the Mono Basin, his favorite place is the delta of Rush Creek into Mono Lake. He explained that the first time that he saw water running down Rush Creek while driving on Highway 395 he had to pull over because he was so overwhelmed that he was brought to tears. It's a sentiment that I have heard repeated more than a few times during my own summer in Mono Basin. More grand than the million year old waters of Mono Lake, or the rising peaks of granite that tower thousands of feet above, is the inspiration brought from seeing the hard work of many people coming together to recover what was almost lost. As Randy puts it, "after remembering Rush Creek as a lifeless ditch, to see both Lee Vining and Rush Creek returning to life is yet another opportunity for tears of joy!"
Find the other "Interns then and now" posts in this series: Erik Lyon (2011), Lisa Curtis (2007).